Whoa means whoa and go means go!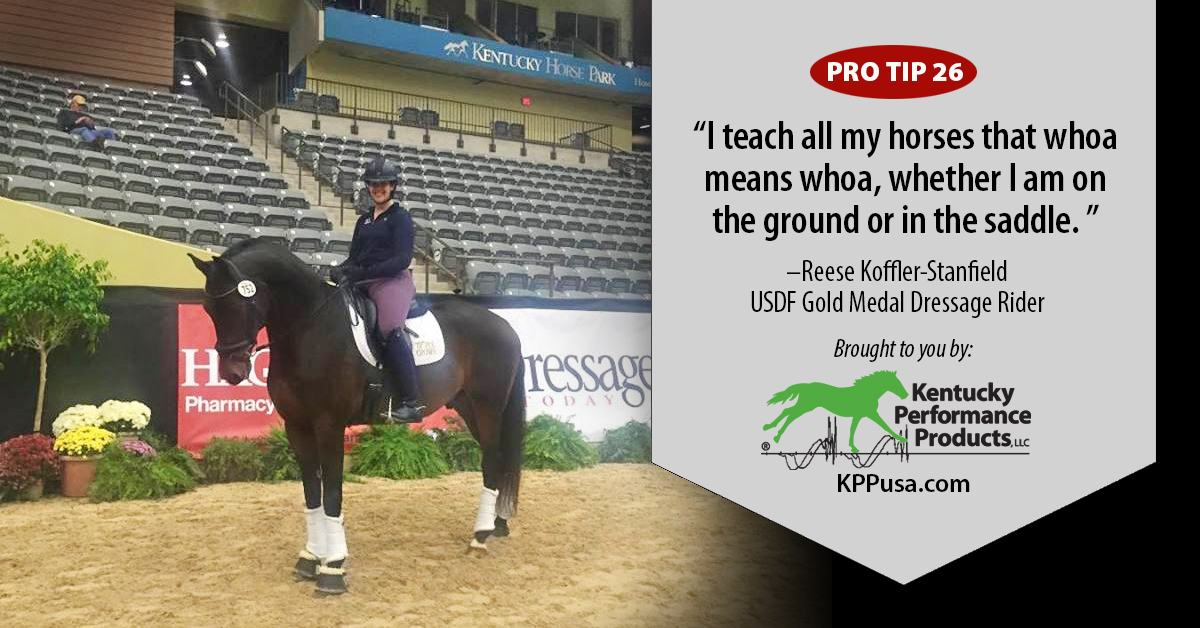 By Reese Koffler Stanfield, USDF gold medalist, FEI-certified instructor, owner of Maplecrest Farm
Every riding horse needs to be able to stop and go when told. I teach all my horses that whoa means whoa, whether I am on the ground or in the saddle. No ifs, ands, or buts about it, when I say whoa it is full stop and my horse doesn't move until I say go. I also spend a lot of time practicing "walk, halt, walk on" transitions when riding. It is the perfect exercise to do during your walk warmup or anytime you feel like you need to "test the brakes."
About Reese:
Reese Koffler-Stanfield is a lifelong professional horseman and United States Dressage Federation (USDF) bronze, silver, gold, and gold freestyle bar medalist. Reese operates Maplecrest Farm in Georgetown, Kentucky, a state-of-the-art training facility dedicated to boarding, training, care, and sale of performance horses and sport horses. As a USDF/FEI certified instructor/trainer, she works with a host of talented riders and horses. Reese is also the host of the Horse Radio Network's Dressage Radio Show. If you have questions for Reese, you can contact her at reese@horseradionetwork.com.