Travel With an Extra Set of Horse Shoes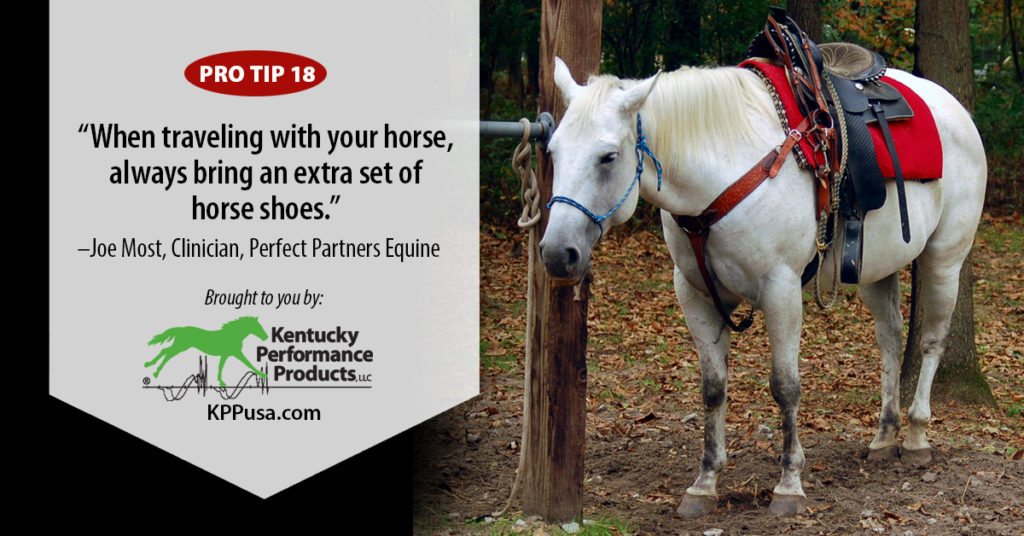 By Joe and Penny Most, equine clinicians and owners of Perfect Partners Equine
We suggest to all of our trail riders that they carry a spare set of horseshoes with them when they go on trips. You can ask your farrier to set you up with a set in case you lose a shoe or need a replacement. When you are out on the trail or in a campground it is unlikely there will be a farrier on hand who has a large supply of shoes with them, but  you can usually find a farrier in camp or close by that can easily tack  a new pair on if  you have them with you.  This way you will have a matched set of shoes for the rest of your ride and that will improve your horse's comfort.
About Perfect Partners Equine:
Perfect Partners Equine, established by Joe and Penny Most, offers trail horse clinics, obstacle challenges, and equine vacations for trail riders. Joe and Penny have over 30 years of experience in equine activities such as recreational riding, showing, training, breeding, and long-distance hauling. They bring a wide variety of expertise to the riders who participate in their programs, and they share habits and skills that help riders better understand and communicate with their horses. To join Perfect Partners Equine on one of their many equine clinics, excursions or trail horse retreats, visit perfectpartnersequine.com or email perfectpartnersequine@yahoo.com or call Penny Most at 336-403-1508.