Stay positive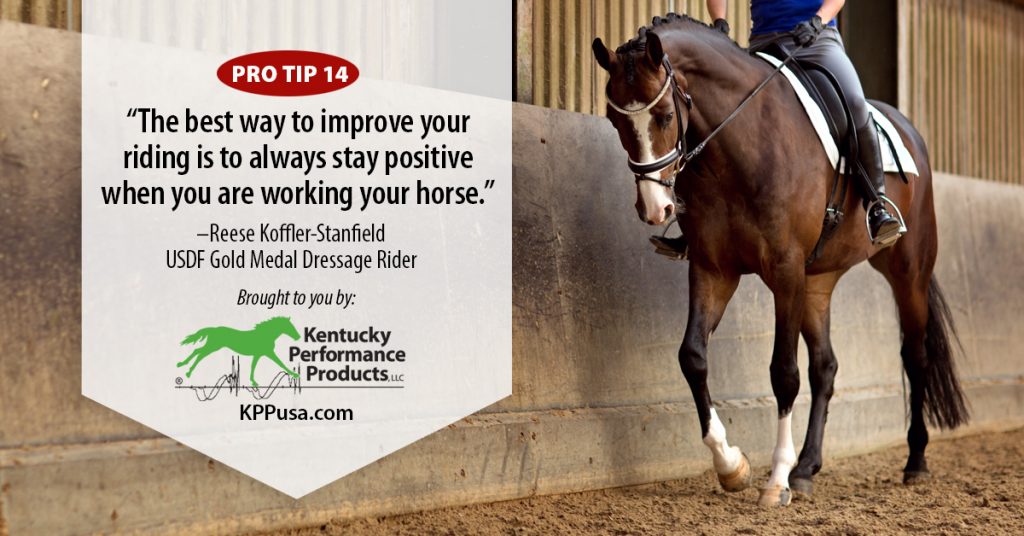 By Reese Koffler Stanfield, USDF gold medalist, FEI-certified instructor, owner of Maplecrest Farm
The best way to improve your riding is to always be positive when you're working with your horse. Horses are extremely sensitive animals; if you are stressed they feel it and react accordingly, so say bye-bye to the stresses of the day before you head for the barn. More than likely, things will look much brighter after a good ride.
Sponsored by Trouble Free™ calming paste. The unique ingredients in Trouble Free support a calm attitude that allows horses to stay confident, focused and relaxed during training and showing.
About Reese:
Reese Koffler-Stanfield is a lifelong professional horseman and United States Dressage Federation (USDF) bronze, silver, gold, and gold freestyle bar medalist. Reese operates Maplecrest Farm in Georgetown, Kentucky, a state-of-the-art training facility dedicated to boarding, training, care, and sale of performance horses and sport horses. As a USDF/FEI certified instructor/trainer, she works with a host of talented riders and horses. Reese is also the host of the Horse Radio Network's Dressage Radio Show. If you have questions for Reese, you can contact her at reese@horseradionetwork.com.