Hoof packing tricks of the trade.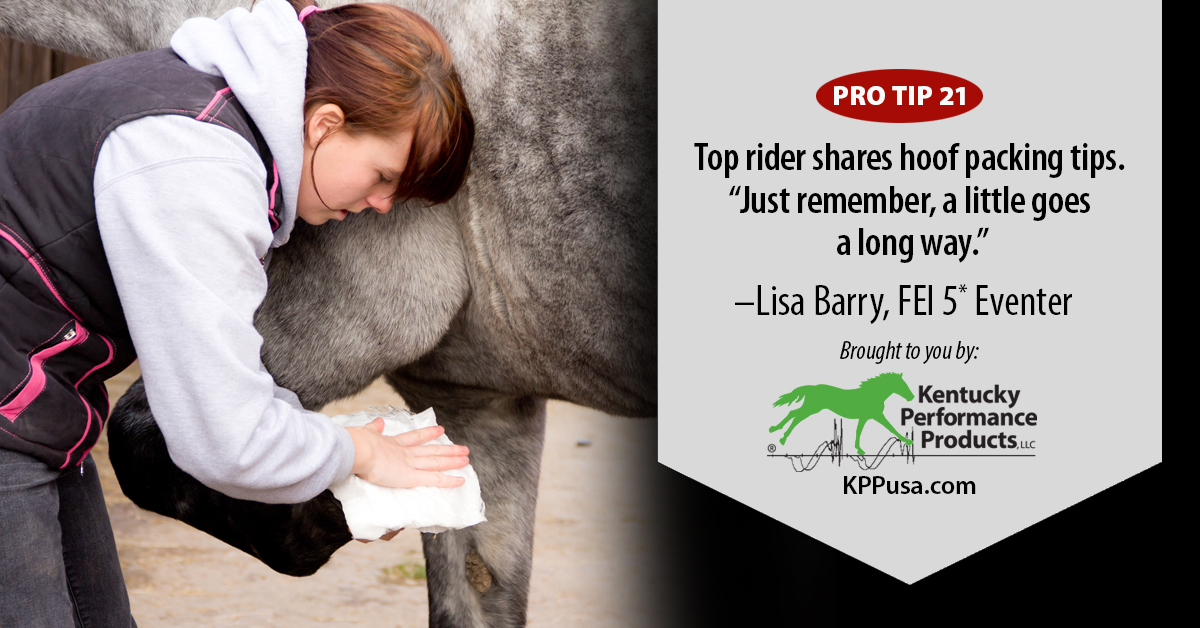 By Lisa Barry, FEI 5* Rider and Trainer
When packing a horse's foot for a bruise or after working on hard ground to prevent soreness, add a little Sore No-More® liniment to your Betadine and Epsom salt mixture. I like this mixture to be similar to the consistency of oatmeal: soft enough that it's not all salt and firm enough that it doesn't run out of your hand when trying to place it in the hoof. The arnica in the Sore No-More will reduce the pain and help the Epsom salt draw more of the bruise out. You can also wet an Animalintex® dry poultice pad with Sore No-More instead of water when packing a foot that can't tolerate the abrasiveness of the salt. Important! Never overfill your horse's hoof with foot pack. You can cause more soreness from pressure. A little can go a long way!
About Lisa:
Lisa Barry is a four-star event rider who has been riding and competing horses for 29 years, and has 16 years of international competition experience. Her horses have had top placings at many FEI events including at the Advanced/CCI4*/CCI5* level. Lisa has trained with Karen O'Connor for 25 years, and has worked for and ridden with Karen and David since she joined the O'Connor program as a working student when she was 17. Lisa competed at the 2015 Rolex Kentucky Three-Day Event aboard her beloved FIS Prince Charming, aka "Peanut," a tiny, feisty New Zealand OTTB. Lisa is currently training and coaching out of Lexington, Kentucky and Ocala, Florida. If you have questions for Lisa or would like to learn more about her program email her at lisa@lisabarry.com