Be Sure to Smile and Breathe When You Ride.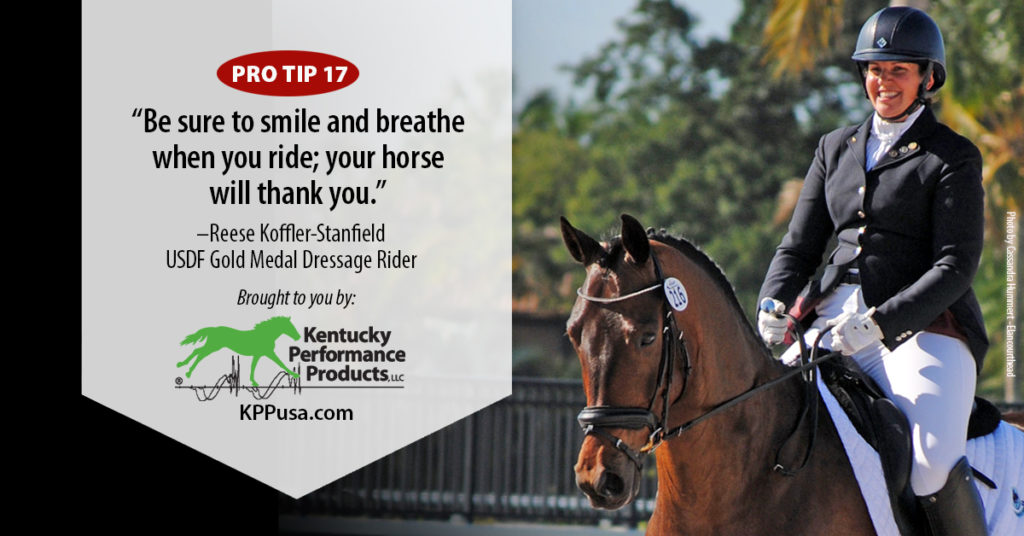 By Reese Koffler Stanfield, USDF gold medalist, FEI-certified instructor, owner of Maplecrest Farm
It is amazing how many riders forget to breathe, especially when they are competing in the ring! Holding your breath creates tension that your horse can sense. So the next time your horse seems tense, remind yourself to smile and "just breathe!" It will help you and your horse enjoy the ride.
About Reese:
Reese Koffler-Stanfield is a lifelong professional horseman and United States Dressage Federation (USDF) bronze, silver, gold, and gold freestyle bar medalist. Reese operates Maplecrest Farm in Georgetown, Kentucky, a state-of-the-art training facility dedicated to boarding, training, care, and sale of performance horses and sport horses. As a USDF/FEI certified instructor/trainer, she works with a host of talented riders and horses. Reese is also the host of the Horse Radio Network's Dressage Radio Show. If you have questions for Reese, you can contact her at reese@horseradionetwork.com.