Take good care of your trailer and it will take good care of you.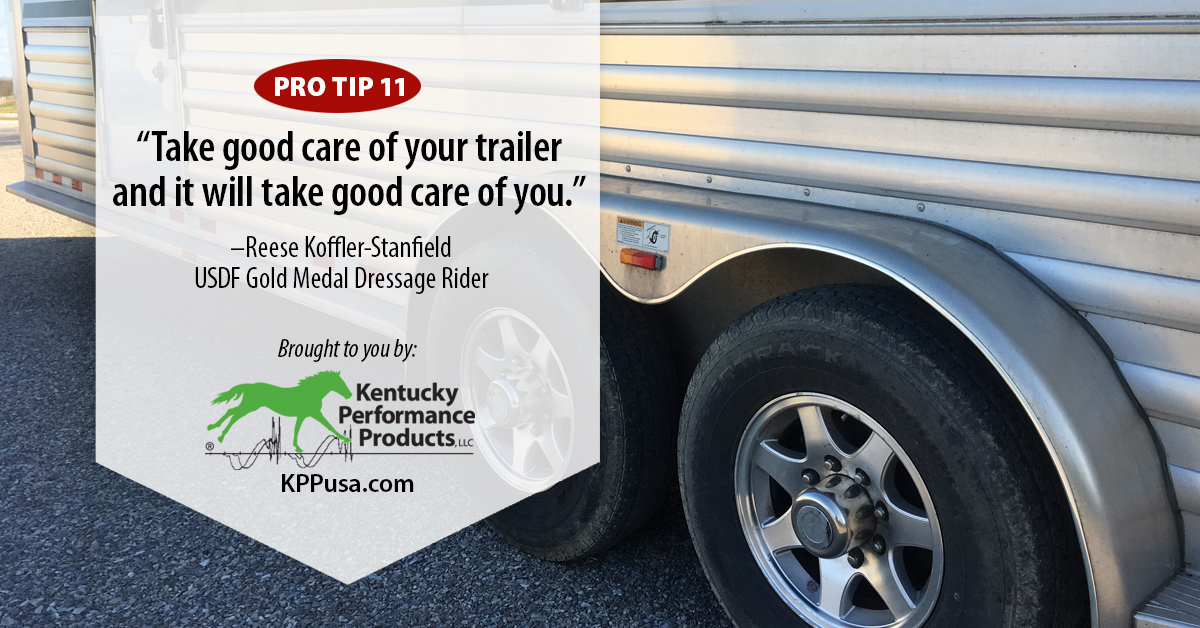 By Reese Koffler Stanfield, USDF gold medalist, FEI-certified instructor, owner of Maplecrest Farm
Trailers are a big investment, so it is worth your time and money to take good care of them. Before you hit the road for the season, arrange to take your trailer to a qualified mechanic for a check-up.
Inspect the following at least annually, more often if you use your trailer often.
Tires
Brakes
Floor boards
Trailer frame
Hitch
Lights
Replace and repair any worn or broken parts.
Deep clean your trailer at least once a year by removing floor mats and power washing the interior. Wash and wax the outside as needed.
When you use your trailer, remove manure and soiled bedding after each use. Dry out wet spots. Clean out hay bags and nets regularly so moldy hay doesn't accumulate. Dump and air out water containers between uses.
Organize and clean your tack storage area at least weekly to ensure that you can always find what you need when you need it. Keep your trailer first-aid kit well stocked in case of emergency.
Sponsored by: Elevate® natural vitamin E
Fight back against transportation stress that suppresses your horse's immune response with Elevate natural vitamin E. An essential antioxidant, vitamin E scavenges and converts free radicals to relatively stable compounds and stops the chain reaction of free radical damage. Research shows that even short trips in a trailer result in a decrease in immune function and elevated stress hormones. Antioxidants are critically important for maintaining a strong immune response when long and short distance hauling stresses your horse.
About Reese:
Reese Koffler-Stanfield is a lifelong professional horseman and United States Dressage Federation (USDF) bronze, silver, gold, and gold freestyle bar medalist. Reese operates Maplecrest Farm in Georgetown, Kentucky, a state-of-the-art training facility dedicated to boarding, training, care, and sale of performance horses and sport horses. As a USDF/FEI certified instructor/trainer, she works with a host of talented riders and horses. Reese is also the host of the Horse Radio Network's Dressage Radio Show. If you have questions for Reese, you can contact her at reese@horseradionetwork.com.