Keeping skin disease away.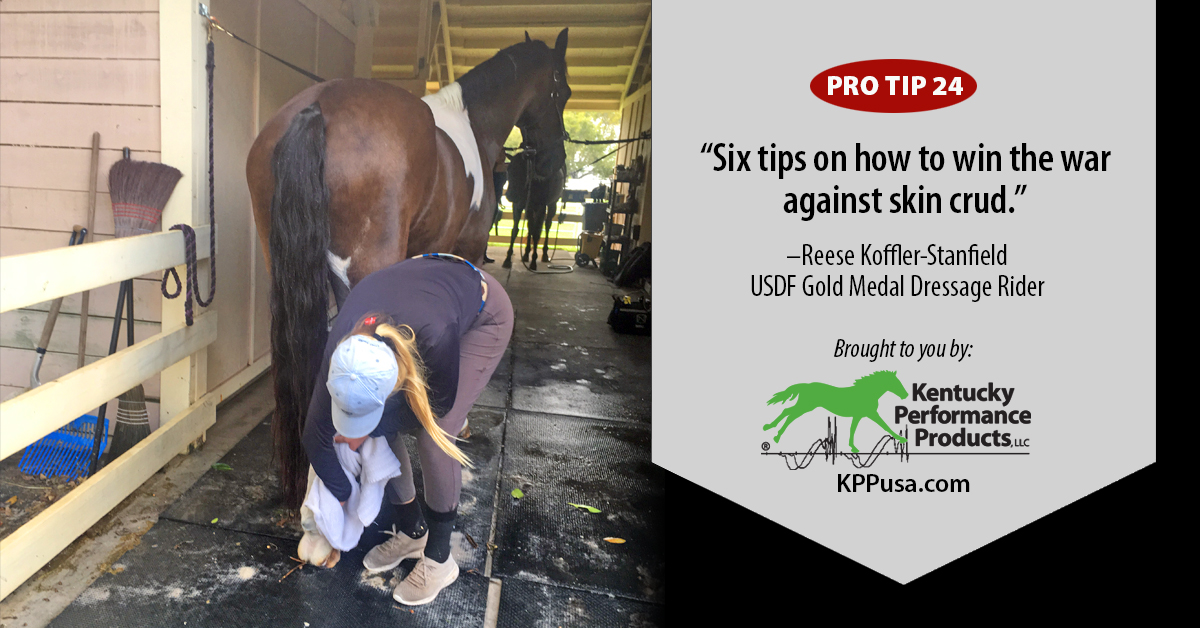 By Reese Koffler Stanfield, USDF gold medalist, FEI-certified instructor, owner of Maplecrest Farm
There is nothing worse than dealing with skin crud. To limit your horse's exposure to the pathogens that cause skin disease, take a few easy steps:
1) Clean your brushes at least once a month. Wash them in hot soapy water, rinse well and lay them in the sun to dry. Wash the container they live in as well.
2) Have your blankets cleaned at the end of each season.
3) Don't share personal items like brushes, boots, sheets, saddle pads and tack among your horses. If you must share, wash the items between horses.
4) Make sure your horse is completely dry before replacing blankets or sheets.
5) Rub down the face and legs with a towel after rinsing or washing. Get them as dry as possible.
6) Check your horse for skin crud daily and treat outbreaks immediately.
Just a little effort on your part will greatly reduce the risk of your horse developing skin crud. In the long run it will save you time and money and make your horse much happier.
About Reese:
Reese Koffler-Stanfield is a lifelong professional horseman and United States Dressage Federation (USDF) bronze, silver, gold, and gold freestyle bar medalist. Reese operates Maplecrest Farm in Georgetown, Kentucky, a state-of-the-art training facility dedicated to boarding, training, care, and sale of performance horses and sport horses. As a USDF/FEI certified instructor/trainer, she works with a host of talented riders and horses. Reese is also the host of the Horse Radio Network's Dressage Radio Show. If you have questions for Reese, you can contact her at reese@horseradionetwork.com.