Nutrition matters!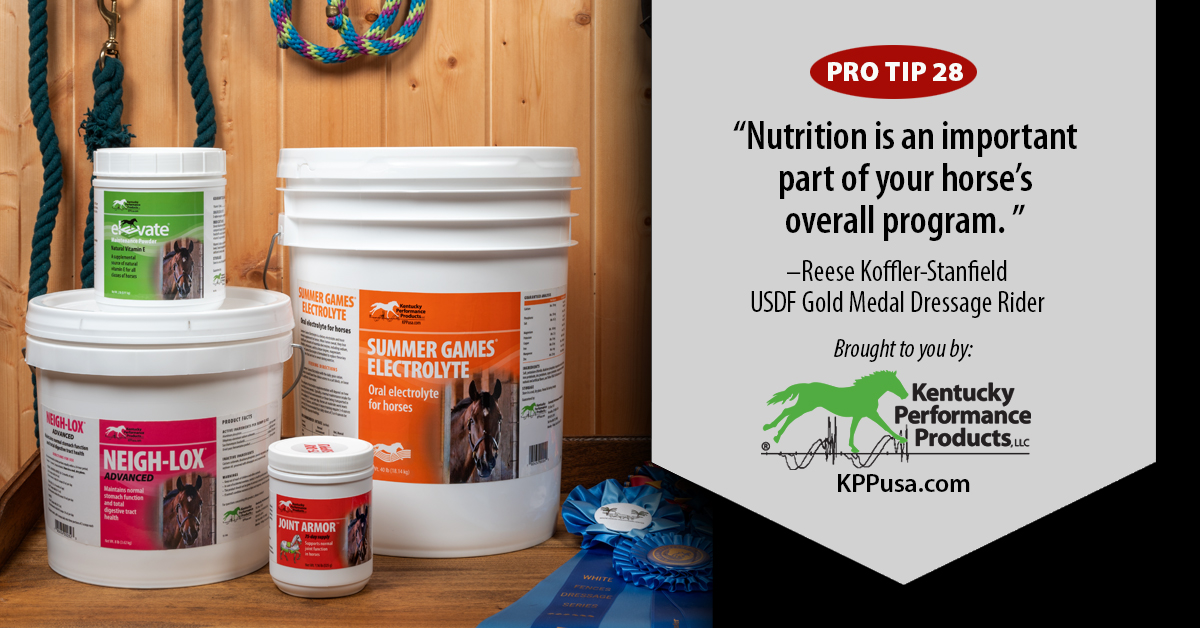 By Reese Koffler Stanfield, USDF gold medalist, FEI-certified instructor, owner of Maplecrest Farm
Nutrition is an important part of your horse's overall program. It is particularly important for high-performance horses to get the appropriate levels and types of energy and nutritional support they need to perform. Over the years I have found that having the ability to discuss my horse's feeding program with an equine nutritionist is extremely helpful. I like to review my feeding program at least once a year, more often if my horse's circumstances change, particularly if his training schedule increases or if he is laid up for some reason. Establishing a relationship with a nutritionist is key; they get to know your program and your horses, so they can quickly assess your needs and make recommendations.
Finding a good nutritionist is important. Most commercial feed companies, such as Triple Crown for example, will have a professional nutritionist on staff that you can contact by email or phone. They can help you with basic feed requirements and advise you on the best feeds for your horse. Research-based supplement companies such as Kentucky Performance Products have nutrition experts that can recommend targeted supplements when you are addressing specific challenges or problems.
About Reese:
Reese Koffler-Stanfield is a lifelong professional horseman and United States Dressage Federation (USDF) bronze, silver, gold, and gold freestyle bar medalist. Reese operates Maplecrest Farm in Georgetown, Kentucky, a state-of-the-art training facility dedicated to boarding, training, care, and sale of performance horses and sport horses. As a USDF/FEI certified instructor/trainer, she works with a host of talented riders and horses. Reese is also the host of the Horse Radio Network's Dressage Radio Show. If you have questions for Reese, you can contact her at reese@horseradionetwork.com.