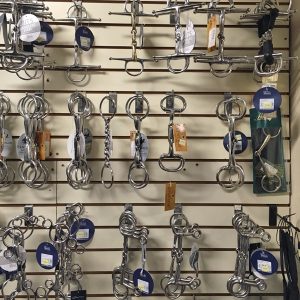 Don't Be Afraid to Try Different Bits
Don't Be Afraid to Try Different Bits
Have you ever thought about whether your horse has a fat tongue or fleshy lips? Or even how its palate is shaped??
I've become a bit of a bit hoarder over the years as they absolutely fascinate me. There are so many different mouth pieces and cheek pieces and combinations that choosing what is ultimately right for your horse can be fairly intimidating! I have never felt as though I needed to be restricted to just a certain kind of bit, because I have ridden so many different horses that have liked so many different things. Sometimes it makes complete sense and sometimes it's utterly perplexing.
Ultimately, I've discovered that all horses aren't created equal and, although it's nice to be able to say that "my horse goes in a plain snaffle in all 3 phases," it's not always the right choice for both horse and rider. Classically, this is what we are all searching for, right?! …to have the horses so well-trained off our seat and leg that the reins are just there for turning and finetuning. Unfortunately, that takes thousands of hours of practice, patience and coaching. For the vast majority it's rare. Even the most well-trained horse might need a stronger bit and the most educated rider might need to use something other than a simple snaffle.
A lot of people are afraid to use a bigger or more unconventional bit, or worried that their hands aren't good enough to use something stronger. This very well may be the case. However, I like to find a way to teach my riders to use a bit that allows them to be effective. If they are constantly having to haul on their horse's face or are completely out of breath and strength after just a show jumping round… they may not have enough bit, or the right type of bit. Now, I know that having a stronger bit means that you need to be better with your hands, BUT constantly pulling on your horse's mouth is also not the answer. You need to sort out WHY the horse is so strong, and in what way, so that you can appropriately choose a bit that can help you stay in control without being too harsh, and not end up exhausted. Then you can continue to work on the horse's responsiveness and balance at home with the goal of not needing the stronger bit for very long.
When it comes to bits, the shape of your horse's mouth, the size of their palate, their tongue, the bars of their mouth or even their history with other riders may be greatly affecting how available they are to you and how happy they are to do their job. I challenge all of you reading this blog to evaluate the kind of bit you are using and have open discussions with your trainers and/or trusted professionals about what bit would suit your horse best. Or send me an email and ask for some advice if you feel you might not have the right selection. I'll be happy to help!
Pro Tip: Bits can be expensive! If you are looking for a bigger selection and don't want to spend a bunch of money, I suggest asking your trainer, your friends or (my personal favorite) consignment stores. I have found a large selection of my bit bags by scouring the used section of all the local tack stores! My other piece of advice is to use the powers of the interwebs to help! I have been able to find very cheap options on Amazon and eBay or even some of the sale sites like State Line Tack or SmartPak Equine.
Happy Hunting!
Lisa
This post is sponsored by Lisa's product pick for the month: Summer Games® Electrolyte
"Summer Games is the only electrolyte I trust to properly replenish what my horses lose when they sweat. It's properly balanced with trace minerals and low sugar so I don't have to worry that it's full of anything that is unnecessary for their top performance. From my young homebreds to my top level athletes, I wouldn't use anything else!"  Lisa Barry, FEI 4* Event Rider and Trainer
Summer Games is a unique blend of both electrolytes and trace minerals specifically formulated to replenish critical electrolytes in the proper ratios. Summer Games supports healthy electrolyte balance so horses stay hydrated, perform at optimal levels, and recover faster after exercise or in stressful situations.
About Lisa:
Lisa Barry is a four-star event rider who has been riding and competing horses for 29 years, and has 16 years of international competition experience. Her horses have had top placings at many FEI events including at the Advanced/CCI3*/CCI4* level. Lisa has trained with Karen O'Connor for 25 years, and has worked for and ridden with Karen and David since she joined the O'Connor program as a working student when she was 17. Lisa competed at the 2015 Rolex Kentucky Three-Day Event aboard her beloved FIS Prince Charming, aka "Peanut," a tiny, feisty New Zealand OTTB. Lisa is currently training and coaching out of Lexington, Kentucky and Ocala, Florida. If you have questions for Lisa or would like to learn more about her program email her at   lisa@lisabarry.com