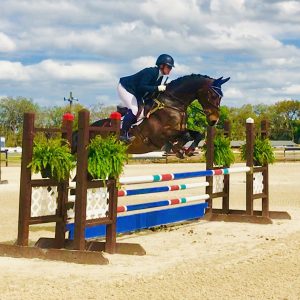 Is this the beginning of a beautiful partnership?
Is this the beginning of a beautiful partnership?
As some of you know, I've grown up riding and training all my horses essentially from scratch. I've had a wide assortment of talent and level of hotness. None of them have been all that easy but that's what makes riders well-rounded, right?!
Countless hours of training, successful rejoicing and boxes of tissues later I find myself sitting on one that's not hot or difficult or a chicken or too slow mentally to catch on, or essentially anything that I'm used to. I find myself sitting on one that is quickly becoming one of the loves of my life. He's smart, kind, honest, athletic and about as dreamy as they come! But what I am the most proud of is that he comes by his mistakes honestly. He shows me where his insecurities are and then lets me help him. And at the very same time he is allowing me to recognize that I actually can be decent on the flat (!) and that just because I haven't put down big marks in the past, doesn't mean that I can't.
As riders, none of us are the same. We've had different experiences and we struggle/succeed with different aspects of our riding. Those things can cause us to get along with the horse or not. If we're lucky, they can make us more confident, or on the flip side they can even cause us to become fearful. We are humans, after all. But we constantly need to be aware of that and try to do what's best for the animals. Even if it means they need to move on to a different job or a different rider.
Because of my past, I've developed the philosophy of trying to be happy and at peace with each part of my journey. Attempting to find the good in every ride, however difficult that might be. Not to say that I'm always successful, because let's be honest, I'm competitive and can be emotional and I'm human! But for the very first time in my career I have this horse that is giving me the feeling that I can show off a little, that I can win without having to be the underdog, that I can start on top instead of always having to do my best to catch up with the jumping phases. Who knows, maybe I can even start to be competitive with some of my friends and their top mounts!
I have enjoyed every piece of my path so far, but I have the feeling that this is just the beginning of a very beautiful partnership and I can't wait for the journey with this amazing horse!
Massive thanks and a shout-out to my amazing sponsor and owner of the dreamboat we call Leo (The Natural E). Karen, thank you for trusting me with him.
Lisa
"Summer Games is the only electrolyte I trust to properly replenish what my horses lose when they sweat. It's properly balanced with trace minerals and low sugar so I don't have to worry that it's full of anything that is unnecessary for their top performance. From my young homebreds to my top level athletes, I wouldn't use anything else!"  Lisa Barry, FEI 5* Event Rider and Trainer
Summer Games is a unique blend of both electrolytes and trace minerals specifically formulated to replenish critical electrolytes in the proper ratios. Summer Games supports healthy electrolyte balance so horses stay hydrated, perform at optimal levels, and recover faster after exercise or in stressful situations.
About Lisa:
Lisa Barry is a five-star event rider who has been riding and competing horses for 29 years, and has 16 years of international competition experience. Her horses have had top placings at many FEI events including at the Advanced/CCI4*/CCI5* level. Lisa has trained with Karen O'Connor for 25 years, and has worked for and ridden with Karen and David since she joined the O'Connor program as a working student when she was 17. Lisa competed at the 2015 Rolex Kentucky Three-Day Event aboard her beloved FIS Prince Charming, aka "Peanut," a tiny, feisty New Zealand OTTB. Lisa is currently training and coaching out of Lexington, Kentucky and Ocala, Florida. If you have questions for Lisa or would like to learn more about her program email her at lisa@lisabarry.com