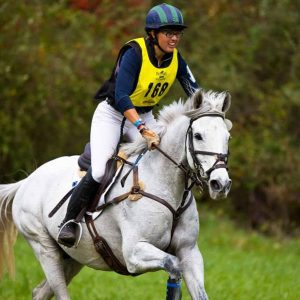 Fitness Training a Must for Event Horses
Fitness Training a Must for Event Horses
Now that the new year is upon us, most of us are either starting our winter competition season or contemplating our goals for 2019. Whether you are up north or have the luxury of spending your winter months down south, fitness is always a big thing to think about!
Your horse's fitness regimen should be based on the level you are competing or trying to achieve. For instance, if you are looking to move from novice to training, your daily work doesn't need to change all that much fitness-wise. As long as you are riding at least a few days a week, and the horses are getting to flat and jump a reasonable amount before your first competition, you should be fine! On the other hand, if you are looking to move up from training to preliminary, or from prelim to intermediate, etc., your fitness plan needs to be significantly different! You also need to consider the breed of horse you're riding — heavier types of warmbloods have different needs from Thoroughbreds.
When you move from training to prelim, plan on adding in canter sets every 5 days, as well as increasingly longer trot sets — up to, say, 25 minutes once or twice a week, depending on your horse. For the jump from prelim to intermediate and on, you need to increase your time in the saddle in general, as well as increasing your gallop and trot sets. I like to add long walks on hills before and/or after my work. Not only does that help horses build their muscles, but believe it or not, it does help with their overall fitness and is good for all levels.
For a horse that has been in decent basic work and is aiming for preliminary and above, I like to start my trot sets at 10 to 15 minutes straight with a walk before and after. Canter sets begin with what we call 3×4 with a 10-minute trot first. So that means that you pick the best piece of ground you have access to, warm up at the walk for a few minutes and then start on your 10-minute trot. After the trot, you allow the horse to catch their breath (for 5 minutes max) then you begin your canter sets. 3×4 means that you canter at a slow hand gallop for 4 minutes, then walk for 2, then canter again for 4 then walk for 2 and finish with the third set of 4.
I like to do these sets every 5 days and increase the number of minutes every 4 sets. So, for example, in 20 days' time you'd do 4 different days of those 3×4 sets, then on the 25th day you'd bump up to 3×5, three sets of five-minute canters. To make sure that the horses are ready to progress into the increased amount of time, I check their respiratory rate after each finished set. To do this you simply use a watch or a timer and count how many breaths they take in 10 seconds. Anywhere from 10 to 14 means that they are fit and ready for the next level of canter sets. If it is from 15 to 18 breaths, they are still developing their fitness at that level and need to continue with the current level of work. If they are at 19 and above, they are not fit enough and you need to think about scaling back on your next set, adding in more daily work and walking to help them.
If they are in the lower range faster than the 4 sets, you can bump up to the next level of increased minutes sooner. The max number of minutes per set depends on the level you are trying to achieve and the kind of horse you are on. A TB going prelim will most likely need less galloping than a warmblood at that level. In general, when heading for a CCI, I would like to have the prelim horses doing 3x7s, the intermediate horses doing 3x7s or 3x8s (depending on the horse) and the advanced horses doing 3x8s or more. As you progress through the sets, you should also be trying to add in hills to these sets as well as some speed work within each set.
What I have just described is one of many ways that can been used successfully to get horses to their optimum cardio fitness for the level you are trying to achieve. Galloping and trotting (long, slow distance work) is crucial for not only cardio fitness but for the development of their muscles, tendons and ligaments. I strongly recommend some version of galloping and trotting to anyone trying to get their horses more fit, no matter the level.
Lisa
This post is sponsored by Lisa's product pick for the month: Ker-a-Form™
"Ker-a-Form is my favorite hoof and coat supplement! Not only does it produce healthy skin, shiny coats and strong hoof walls, but it's also palatable and easy on the wallet!"
Lisa Barry, FEI 4* Event Rider and Trainer
About Lisa:
Lisa Barry is a four-star event rider who has been riding and competing horses for 29 years, and has 16 years of international competition experience. Her horses have had top placings at many FEI events including at the Advanced/CCI3*/CCI4* level. Lisa has trained with Karen O'Connor for 25 years, and has worked for and ridden with Karen and David since she joined the O'Connor program as a working student when she was 17. Lisa competed at the 2015 Rolex Kentucky Three-Day Event aboard her beloved FIS Prince Charming, aka "Peanut," a tiny, feisty New Zealand OTTB. Lisa is currently training and coaching out of Lexington, Kentucky and Ocala, Florida. If you have questions for Lisa or would like to learn more about her program email her at lisa@lisabarry.com