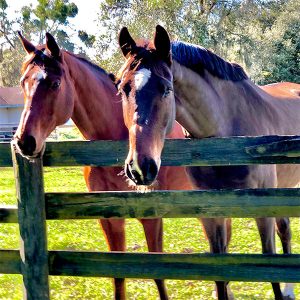 This is a crazy new world.
This is a crazy new world.
COVID-19 has taken over what we horse people know as normal and we're having to call this strange limbo our new reality. How does one decide how to train their horses with no competitions in the foreseeable future? What is too much and is there a measure that qualifies as too little? For those of us that are lucky enough to be able to continue riding—either because we own our farms or our farm owners have strict but doable protocols that have been put in place to allow us (crazy horse people) to keep a little sanity by riding during lockdown—these are questions on our minds.
Riders like me with competition goals are constantly going to work to improve all the little details so that our performances at shows can be the best possible. The same is to be said about riders with noncompetitive goals. Those riders have personal goals that are still very important!
For those of us on a quest for the top of our sport, schedules for fitness and schooling days are very important and often strict, especially at this time of year! Being on a holding pattern is certainly hard, but I have decided to try to make the best of it. I've decided to decrease the amount of work all the horses are doing and I've cut out all long slow-distance fitness work. Instead, I'm trying to have shorter workouts that focus on small goals for the day. Hacking and more days off are also a priority. Some horses are working every other day to help their brains and some are going back and forth between easy hack/fun days and small amounts of specific work. Ultimately I'm aiming for No Stress and not too much pressure on either me or the horses to be perfect. The way I see it, this keeps us on track, keeps some of our strength and focus, but nothing is too hard. Hopefully by the time all the dust settles and we're able to get back to the serious side, we'll have kept just enough of all the things we need to be able to put our heads down and get back to serious work without the horses (or me) feeling like too much has changed after a semi holiday.
Everyone has their own preferences and in my opinion there isn't really a wrong answer as to what we should be doing. Some have decided to give their horses time off, some haven't changed their daily plans at all and some are doing things in the middle, a bit the way I am. Regardless of what you have chosen to do and whether you are able to keep working with your horses or not, I hope this month's blog reaches a happy and healthy audience. Please keep yourself, those around you and your horses as safe as possible! Well wishes to all.
About Lisa:
Lisa Barry is a five-star event rider who has been riding and competing horses for 29 years, and has 16 years of international competition experience. Her horses have had top placings at many FEI events including at the Advanced/CCI4*/CCI5* level. Lisa has trained with Karen O'Connor for 25 years, and has worked for and ridden with Karen and David since she joined the O'Connor program as a working student when she was 17. Lisa competed at the 2015 Rolex Kentucky Three-Day Event aboard her beloved FIS Prince Charming, aka "Peanut," a tiny, feisty New Zealand OTTB. Lisa is currently training and coaching out of Lexington, Kentucky and Ocala, Florida. If you have questions for Lisa or would like to learn more about her program email her at lisa@lisabarry.com