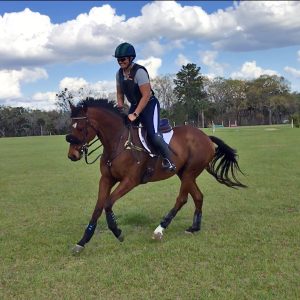 Patience is a virtue
Growing up, our mothers taught us that patience is a virtue. It's not always the easiest thing to be good at in this fast-paced world, but it's definitely something to strive for!
I got a horse in for training last summer. The initial plan was for me to school him for a couple months and then ideally he would be returned to his owners for them to carry on with his training or, if I thought he wasn't going to progress well enough to fit his intended rider, he was to be sold.
This horse is an OTTB who we affectionately call Slim Shady. For those of you who know the reference, he lives up to that nickname more than I had even realized when he first arrived. Arrogant and quirky, opinionated and incredibly intelligent, and beyond a shadow of a doubt, the underdog. He had a tough start to his life being born into the racing industry and then being claimed 5 times between the ages of 3 and 5. With bloodlines that are so stacked it's almost scary and a few relatives that some like to stay away from due to their attitudes.
After he arrived it was very clear that my work was cut out for me. This horse was going to need a lot of work before he could even have a clear path for his future.
Patience is a virtue, I remind myself on the daily with this horse. He needed (and needs) the time and direction but also needed to not be afraid. I by no means am a master at natural horsemanship like some of my good friends, but after a certain feral little grey horse (cough…Peanut…cough) I knew that if I could get Slim Shady to trust me, he would come around. Hopefully. I talked with his owners and we came up with a good deal for him to stay with me for the foreseeable future so that I could keep trying to mold him into the incredible athlete he could be. Although he is difficult, I see something in him. Raw talent.
I have been using every trick I have acquired over the years, and on many days with no avail. One step forward, two steps back, repeat. Repeat. Repeat. Try not to set him free to be one with the wild things. Repeat.
He's been with me 6 months or so now. Yesterday, he allowed me to not only take him off property and GET ON HIM without me fearing for my life, but he Let Me xc school him!!!!!! And he was brilliant 🙂. I'm still in shock and I'm not sure what things I'll encounter with him next week, but for now I'm on cloud nine. I was almost brought to tears I was so proud of him. Not only did he figure out his job and enjoy it, but he might be the most athletic jumping horse I've ever sat on!!
Patience is a virtue. I'm sure the road for this horse is long and this is only a step towards his potential but after the last 6 months of work, I feel like I've won the lottery!
Lisa
This post is sponsored by Lisa's product pick for the month: Ker-a-Form™
"Ker-a-Form is my favorite hoof and coat supplement! Not only does it produce healthy skin, shiny coats and strong hoof walls, but it's also palatable and easy on the wallet!"
Lisa Barry, FEI 4* Event Rider and Trainer
About Lisa:
Lisa Barry is a four-star event rider who has been riding and competing horses for 29 years, and has 16 years of international competition experience. Her horses have had top placings at many FEI events including at the Advanced/CCI3*/CCI4* level. Lisa has trained with Karen O'Connor for 25 years, and has worked for and ridden with Karen and David since she joined the O'Connor program as a working student when she was 17. Lisa competed at the 2015 Rolex Kentucky Three-Day Event aboard her beloved FIS Prince Charming, aka "Peanut," a tiny, feisty New Zealand OTTB. Lisa is currently training and coaching out of Lexington, Kentucky and Ocala, Florida. If you have questions for Lisa or would like to learn more about her program email her at lisa@lisabarry.com