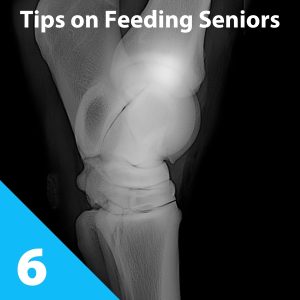 Part 6: Joint Supplements for the Senior Horse
Part 6: Joint Supplements for the Senior Horse
Senior horses require special attention to address their changing nutritional needs. As horses age, their metabolism, dental health and digestive efficiency may decrease, affecting their ability to maintain weight and absorb nutrients. In this series we'll give you some guidelines on what to feed your senior horse.
Part 6: Joint Supplements for the Senior Horse
Joint supplements help support joint health and reduce stiffness and inflammation. Senior horses may benefit from a basic joint supplement that contains glucosamine, chondroitin and hyaluronic acid. Recent research has shown that joint supplements which also contain fermentation metabolites may mediate the immune response in the joints and reduce age-related inflammation. They are recommended for horses with arthritic changes.
Always consult with a qualified equine veterinarian or equine nutritionist to develop a feeding plan tailored to your senior horse's specific needs. They can help you determine the right balance of nutrients and make adjustments based on your horse's individual health and condition. Additionally, monitor your horse's body condition regularly and adjust the diet accordingly to ensure they maintain a healthy weight.