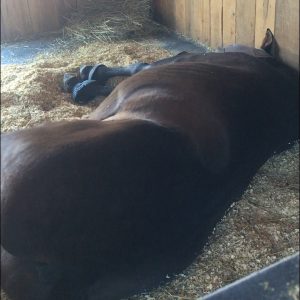 The dream galloping edition!
The dream galloping edition!
I had the weirdest experience the other day. One minute I was lying on my side, taking a nap in my nice comfy stall, and the next minute I was out in the dry lot with my heart pounding! I had no idea how I got there!
Ginger was just staring at me with this look of surprise on her face. "What the heck was that all about, Taco?" she asked.
"I haven't a clue," I said back, feeling perplexed. "What did I do?"
"Well," she said, "One minute you were lying in your stall and the next minute you were flying out the door. I called to you, but it was like you were in another world."
And so I was. I was sleep galloping?!
That is right. I heard the Short One telling my mom all about it. Apparently, I had laid down for a nap and started dreaming. That isn't unusual, I dream all the time, but this time, I was really running and jumping in my dream.
As the story goes, the Short One heard some noise from my stall and went to investigate. I was in a full gallop when she got to the stall door. She even said I was jumping in my dream, then I just leaped up and ran out the door.
Usually when I wake up, I roll on to my belly to rest for a while after my nap and then I slowly get up and shake off before I wander out of the stall. Not that day. She said I leaped up and I shot out of that stall with my tail on fire!
I guess all is well that ends well. I am just glad I didn't try to jump the gate in my dream state… we all know how well that went last time.
This episode of Taco Tuesday is brought to you by Equi-Jewel® Rice Bran.  Equi-Jewel supplies the calories Taco needs to stay fat and happy over the cold winter! Learn more about Equi-Jewel at https://kppusa.com/product/equi-jewel/
To read all of Taco's stories, visit his blog at https://kppusa.com/2020/04/14/its-taco-tuesday/
#kppusa #equijewelricebran #kentuckyperformanceproducts #horsesupplements