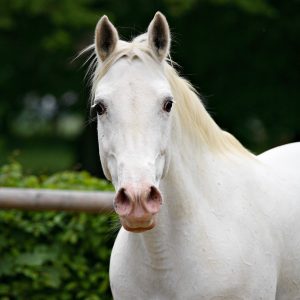 Tips on How to Prevent Sunburn on Your Horse
Horses with white or light-colored skin are more susceptible to sunburn. It is important to limit your horse's exposure to the sun especially during the summer months when the sun's rays are the strongest. Following a few simple tips can greatly reduce your horse's exposure and prevent painful burns.
Protect sensitive areas by applying sunscreen.

Choose a sunscreen with a high SPF and one that is water-resistant.
Test the sunscreen in a small area first to make sure your horse isn't allergic to it.
Apply sunscreen ½ hour before sun exposure and reapply frequently.

Limit turnout and outdoor riding between 10 a.m. and 4 p.m. when the sun is strongest.
Provide a shady spot (tree or run-in shed) where your horse can stand during the day, and provide water and hay in the same area.
Cover sensitive areas on the face and body with fly masks, light hoods, and/or well-ventilated sheets.