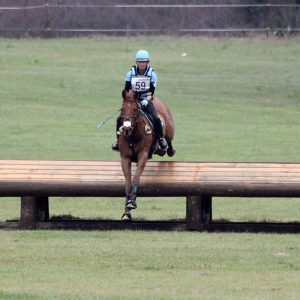 Winter in Florida
Hey everyone! Sorry it's been so long since I have last updated. It's been a bit of a crazy winter, in a good way, but I have no clue where the time has gone. I feel like I just got here, yet I'm packing to come home in two weeks! Here is a quick summary of what the boys and I have been up to.
Hoosier did his first show back at the beginning of February at the Ocala Horse Park. It was his first outing since Fair Hill last April. It felt so good to be back on that boy, but we were both a little rusty so we did prelim there and prelim the following weekend at Rocking Horse. At the Ocala Horse Park, our Dressage was consistent for the most part with a few bobbles to get a 33 in Dressage, one rail down in stadium (we rode stadium in a water complex because of all the rain we have had down here) and a clean but slow cross-country. I didn't wear a watch cross-country because I wanted to see how he truly felt and not get caught up on the time. His breathing sounded so much better! He still makes a noise, but not nearly as loud, and he no longer seems to swallow and have to take those big gasps of air. At the end of the course he was a bit tired.
At Rocking Horse the next weekend, our Dressage was a little better for a 30. We had a nice stadium round keeping all the poles in their cups, and he was strong on cross-country. So strong that we gathered quite a few time penalties because of our opposite opinions in front of the fences. We disagreed on how fast we should actually be jumping them. But needless to say, he felt much stronger that weekend.
So that's when we decided to sign him up for our first intermediate back at Rocking Horse the first of March. I questioned if I was ready more than him, but Missy seemed to have faith. Our Dressage was consistent but nothing "WOW" about it. I halted and saluted to the judge at the end of our test, just for her to get out of her booth and bring me my shoe I lost at the beginning of the test.
Stadium was pretty good, I had two rails but he was jumping better than the last two shows; one rail was my fault because I picked at him too much, and the other was because he was against my hand in the last triple combination.
Then there was cross-country. I'm not going to lie, I was freaking out a little bit; it had been a long time since I had jumped that big. I wasn't thrilled with our round; he was jumping really flat over everything. The best way I can describe our cross-country ride is that we got the job done, but it wasn't pretty or smooth by any means. Hoosier still felt strong through the course, just not his normal round springing self. On another note, it was good enough to bring us home a red ribbon and I am proud of that after all we have been through.
Zeke hasn't done too much down here. Missy kept saying, "Something isn't quite right with him; he looks like he's in pain." And she was right. Every time I would try to collect him and engage his hind end, he would act up. When we would jump, he still wouldn't push at all from behind. So I had a vet look at him and he bombed the neurologic test. We don't know for sure if that is what it is, but he is going home early for further tests.
Then there is Oliver. Oliver is quite the perfect boy. He has been a blast down here. He just does his thing, minds his business, and goes straight to work when it's time to work. Sydney has come down a few times to ride and train with Missy, and Missy says they are a great match. Oliver got to go to his first horse trials last weekend with me, and was very good in every phase to get third. I am very happy with how he is coming along; Syd is going to have a blast with that one. (Oh, and maybe need a stronger bit cross-country, tee-he.)
Well, that's my quick update for now. I hope everyone is staying warm enough at home!
Until next time, safe rides!
Megan