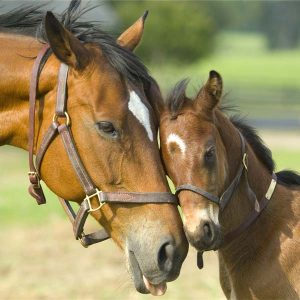 Building a Strong Immune System in Mares and Foals
Natural vitamin E supplementation of broodmares during late gestation and early lactation can give foals a leg up in building a strong immune system. Researchers have recently investigated the value of vitamin E in mares. When supplemented with vitamin E, mares show increased passive transfer of antibodies to foals, which ensures the strength of the neonatal immune system. Foals that do not consume enough colostrum or receive only poor-quality colostrum often have failure of passive transfer (FPT), where an inadequate immunoglobulin intake can lead to illness and death.
In one study, pregnant mares were supplemented with 2,500 IU of water-soluble, natural vitamin E from the last month of pregnancy into the first few days of lactation. Bondo and Jensen (2010) reported mares supplemented with the water-soluble, natural vitamin E had higher levels of vitamin E, IgG and IgM in their colostrums and milk. Subsequently, higher blood levels of IgM and vitamin E were reported in the foals of the supplemented mares.
Providing natural vitamin E to pregnant mares will reduce the incidence of failure of passive transfer and will offer the foal an opportunity to receive more antibodies during the critical first moments of life, promoting a healthier immune system.
Source matters.
Natural vs. synthetic vitamin E
There are physiological differences in the absorption, utilization, and tissue retention between synthetic and natural vitamin E. In fact, the body preferentially transports and incorporates natural vitamin E into tissues. Current research in several species, including horses, shows that natural vitamin E is two to three times more potent than synthetic.
Many feeds and supplements contain synthetic vitamin E which is noted in the ingredient list as dl-alpha-tocopherol or "vitamin E supplement." When supplementing with vitamin E, be sure you choose a natural vitamin. When reviewing the ingredient listing on your feed or supplement, look for the little "d" in front of the name: d-alpha-tocopherol. It may be written out as "natural vitamin E."
Kentucky Performance Products, LLC offers two natural vitamin E products to choose from: Elevate W.S. and Elevate Maintenance Powder.
Elevate W.S.'s unique formula is the most bioavailable source of natural vitamin E on the market today. Developed to increase circulating blood levels quickly, Elevate W.S. has become the product of choice for veterinarians managing horses and foals with neurological and muscular disorders, compromised immune response, or low fertility rate. Elevate W.S. begins raising blood vitamin E levels within 3 days. Choose Elevate W.S. when a quick response is required.
Recommended Use Rates of Elevate W.S.
Maintenance: 1,000 IU/day
Stalled horses or horses maintained on poor pasture: 1,000-2,000 IU/day
Intense training: 3,000 IU/day
Pregnant and lactating mares: 3,000 IU/day
Foals: 3,000 IU/day
Elevate Maintenance Powder was developed to provide a highly bioavailable source of natural vitamin E in an easy-to-feed form for long-term supplementation. As with water soluble vitamin E, it supports a strong immune system in mare and foals. Elevate Maintenance Powder begins to raise vitamin E levels in the blood in a matter of weeks. Choose Elevate Maintenance Powder as a follow-up to Elevate W.S. or when a slow, steady increase in vitamin E levels is appropriate.
Recommended Use Rates of Elevate Maintenance Powder
Maintenance: 1-2 scoops per day (1,000-2,000 IU vitamin E per day)
Intense training: 3-5 scoops per day (3,000-5,000 IU vitamin E per day)
Pregnant/lactating mares: 3 scoops per day (3,000 IU vitamin E per day)
Foals: 3 scoops per day (3,000 IU vitamin E per day)
Stallions: 3 scoops per day (3,000 IU vitamin E per day)
Neurological challenges: Consult your treating veterinarian