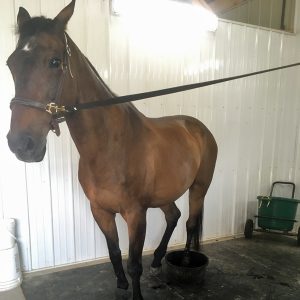 Taco Tuesday – Foot abscess edition
Taco Tuesday – Foot abscess edition
Hello everyone!
Life has been interesting lately. I developed a big abscess in my hind foot. It was very painful, and I was a pitiful boy for several days. I laid around in my stall and wouldn't go out and play. I didn't want to stand on my foot. I had everyone pretty worried because typically I am a ball full of energy!
Finally, one of my favorite veterinarians, Dr. Gould, was able locate the nasty pocket and drain it. Sweet relief! I heard it was pretty yucky when all that gross pus came out. I don't remember, I was out of it at the time. Mom videotaped it and was showing it to everyone. You know how moms are…
As usual, nothing I do is straightforward, so it took multiple exams and X-rays to find the offending nastiness and then I had to soak my foot and take antibiotics for a long time.
I am doing so much better now. Mom or the Short One wraps my foot every night, but I feel up to going out to be with my friends again. It is sooo nice to feel better and get back to my chipper self.
Here are some photos of my daily soaking sessions. I liked to lean on Mom's shoulder and look pitiful. She gave me lots of extra hugs and kisses and treats. I especially liked all the extra treats!
Until my next adventure,
Taco