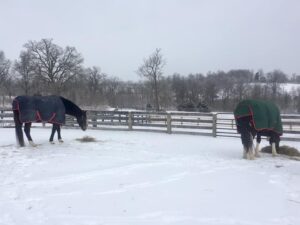 It's Taco Tuesday again!
The last few weeks were quite the adventure. We had some pretty terrible weather. First it rained, then the rain turned to ice! The ice covered everything. It was so icy I had to stay in my stall! At first, I was mad that I couldn't go out and run around, but once I saw Ginger ice skating around the dry lot, I realized I was better off on solid ground in my nice warm stall. We old guys just don't navigate the ice as well as those younger horses do. I got lots of extra hay and a nice warm blanket, so I was pretty happy.
A few days later it snowed, so I was able to go out on my patio. The Short One explained to me that it was too slippery for me to run around in the big dry lot, so I was restricted to my little pen.
"You can't get up too much speed in your little patio, Taco," she said. "The last thing I need is for you to fall down and not be able to get up!" I had to agree, that sounded sensible to me.
One day the Short One let Ginger come in for a play date. We played ring around the stall. Ginger would run into my stall and I would run her back out into the patio. We just went round and round. I think the Short One decided we were getting too rowdy, so she took Ginger back to her own stall. Ginger and I were still able to visit and share our hay through the fence. Ginger likes that arrangement because I shove extra hay over to her. She never seems to get enough to eat, but you'd never know it by looking at her!
Oreo and Leo were out in the big dry lot. They are both a lot more laid back than I am, so they didn't run around. Of course, everyone was eating as much hay as we could possibly get since it was so cold! The Short One never let us run out!
I decided a fun pastime was licking the snow. I like to lick things anyway and the snow tasted good. I licked it all up in one corner of my patio and then I had ice to lick. It was very refreshing.
Today it was warm and most of the snow and ice melted. The Short One said I can go out in the big dry lot with Leo for a while tomorrow. I can't wait to roll in the wet sand and kick up my heels!
Until my next adventure,
Taco
This episode of Taco Tuesday is brought to you by Ker-A-Form™ hoof and coat supplement. Ker-A-Form keeps hooves and hair coats healthy even in the worst weather conditions. Learn more at