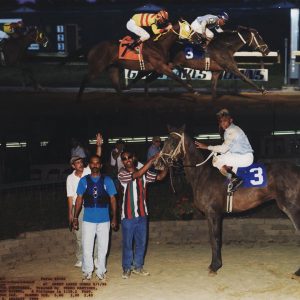 Back in the day, I was a racehorse.
Back in the day, I was a racehorse.
You know I am retired now, so I have a lot of time to think back on my glory days. I was amazing! (If I do say so myself.) When my mom starts talking about how special I am, she starts crying, and she didn't even own me when I was in my prime! I have that effect on people.
I've had several careers, but the most exciting was my first one. I mean, it was insane and it made me crazy. I was young and just off the farm in Michigan, so full of myself I could hardly keep all four feet on the ground. Whew, those were the days.
I was all muscle, and the fillies? They loved me. Couldn't take their eyes off me. I loved freaking out at the end of the lead shank, you know, showing off my moves. I think my humans loved it too. Everyone would stand back and just watch in awe! I was just out of control, you know what I mean? I was a racehorse and I knew it.
In those days they called me Taco's Tempo. My granddaddy was Temperance Hill—he won the Belmont Stakes and he beat that big filly Genuine Risk. He was named America's champion 3-year-old in 1980. I was proud to be his grandson.
So my job as a racehorse was to launch myself out of this narrow stall when the bell rang and then run like hell. The crowd would yell and cheer as a whole group of us guys ran down the dirt track. We'd be talking smack to each other and sometimes we would bounce off one another, although I think that was frowned upon. This one dude was always trying to bite everybody. It was AWESOME.
I won a few times and I let the other guys win a few times too. I didn't mind sharing the glory. I made $34,000—not bad for a kid from Michigan.
I got myself banned from the track because I would get so darn excited in that narrow stall waiting for that bell to ring that I couldn't stand it. One day I bashed my head and the humans said, "No more for you."
Just like that, I wasn't a racehorse anymore.
Yeah, every once in a while I still get the urge to run like the wind around my pasture. It gives my humans a thrill and they all come out to watch. As soon as I am done, I get to come in and get a bath.
Hey, I might be old, but I still have that racehorse in me.