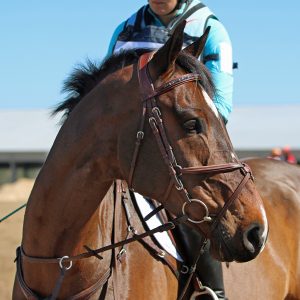 Moving on Up
I imagine by the end of the winter season my car will be able to drive itself down I-75 between Lexington and Ocala. Why not fly? Well, because my car is loaded up with feed, supplements, and other assorted items that Megan has requested. This trip, thanks to Megan's family, the car was loaded down with Valentine's Day gifts for Megan, her horses and her dog. She and her beasties are much loved. She is one lucky girl to have total support from her family and friends as she chases her dream.
Leo was very appreciative of his valentine goodies. He is the kind of horse that makes you feel good every time you see him. He is very affectionate; he loves to be loved on. He has a stall guard on his stall, but he is so tall that it barely comes halfway up his chest and he likes to stand with his feet on the concrete lip of the barn aisle, which makes him that much taller. As you look down the aisle all you see is this huge, handsome beast leaning out of his stall, practically standing in the aisle, ears up, gazing intently in your direction, and if he could talk it is easy to figure out exactly what he would be saying. "You are here! I am so happy to see you. You must come see me! Do you have treats? You must bring me treats. Carrot, apple, peppermint? All three? Aren't I adorable? Oh yes, scratch my neck, please!"
There is no way you can walk past this horse and not interact with him, because he just won't allow it. In the meantime, Leo's next-door neighbor Zeke, who also thinks he needs lots of attention, looks on in total disgust. He does not like having to share with this new kid in the barn, and to show his contempt he reaches out and pulls Leo's halter off the wall and tosses it on the floor! Talk about sibling rivalry!
After several treats and lots of scratches it was time to get Leo braided for his first adventure at training level. Leo and Zeke, Megan's other training level horse, were loaded into the trailer and off we went to Ocala Properties Winter II horse trials. The show grounds were packed and the schooling area was very crowded with horses going every which way. And the wind! It was blowing across that open field at gale force.
Leo warmed up well although there was a lot to look at and he doesn't like to miss anything. Megan had to work hard to keep his attention on the job at hand. The wind was blowing so hard when Megan was called for her test that she didn't hear the whistle and just kept circling at the end of the ring. Finally, the scribe stood up and waved her arms, as Leo approached the entrance, the letter A blew over! He trotted confidently past, straight down the centerline.
I am totally biased, so the test looked lovely to me. Megan said it was almost impossible to judge his pace with the wind blowing, but she was happy with it, especially the lengthening, which they had been working hard to improve. It was good learning experience for Leo, as eventers have to cope with all kinds of weather conditions! The pair received a score of 26.1 and sat in first after dressage.
The next day, the wind had subsided and the sun was shinning. Megan's stadium times for Leo and Zeke were very close, so we had to bring Zeke up to the ring in order to make a quick tack change after Megan rode Leo. Leo jumped around the big course well, but racked up 8 jumping faults. Megan came out frowning, mad at herself for missing her spot at a big oxer. "It was rider error," she said. " I threw my shoulders, ugh…" She is her own worst critic. She went in with Zeke more determined than ever to fix her mistake and jumped a beautiful clear round.
The cross-country course was challenging and there had been some long holds on course. Missy and Megan chatted away while we waited for the course to reopen. I always get nervous before cross-country (I think it is the "mom" in me) so the hold didn't help my nerves. There were a couple of questions that were of concern: Leo had never jumped outside of a ring before he came to the U.S., so the entire idea of jumping down was new to him. When you jump, you jump UP, right? So he liked to jump up before he jumped down when navigating a bank down. This made for an interesting ride! Megan had spent some serious schooling time working on teaching Leo to drop down, instead of jump off the bank, but it was still a new concept to him. The bank down on this course wasn't small so it would have to be carefully ridden.
Aside from bank down, the course was full of many new and interesting questions and there was plenty for Leo to look at. Megan thought the pace would suit his big stride better and the faster gallop would keep him more engaged and less likely to become distracted by the fence judges and other fences. She wanted to give him a forward, confidence-building ride and that she did. After a little wobble coming up to fence one—"Hello, Leo. Pay attention, we are jumping that fence. Yes, that one!"—the pair galloped around clean.
Leo remembered his lesson and dropped softly off the bank. He galloped through the water with his usual zeal and cleared the big tables with room to spare. The team had no time penalties and finish the day in 9th overall. Not bad for his first time out at training!
Everyone was happy with his performance. Megan galloped around fast and clean on Zeke as well. It was a good day. As we packed up to leave, a friend came over and said, " You have a training horse now."
"Yup," I said with a big grin. "No going back now, just onward and upward!"
Karen