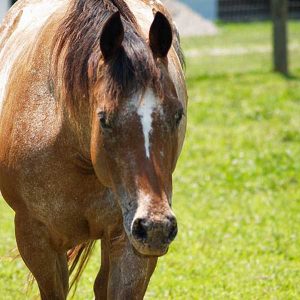 "I have continued to use Ker-A-Form with great results."
KPP's Flamboyant/Colorful Horse contest winner Toma Matott decided to try Ker-A-Form as her supplement of choice prize, and when we checked back with her recently this is what she had to say.
"I have continued to use the Ker-A-Form with great results. I had been looking for a supplement that I could use with a minimal amount of grain as my mare is a very easy keeper. She loves the taste and licks the feeder clean. I needed a supplement that would promote healthy hoof growth. I (and her farrier) am very pleased with the results. Her feet look great!"
–Toma Matott
Heavenly Awesome was the 2001 Appaloosa NP World Champion Weanling Filly, and 2 time Canadian National Champion. She lives the life of leisure now and is affectionately known as Ya Ya.