How to check if your horse is dehydrated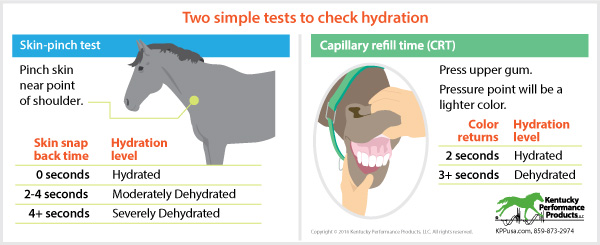 Sweating is the process horses use to cool themselves when their body temperature rises. When a horse sweats they lose both minerals and water. Dehydration occurs when a horse doesn't have enough water in their body to carry out normal functions. This happens when fluid losses exceed fluid intake. Dehydration will cause a horse's body to begin to shut down and also decrease the thirst response so a horse stops drinking. If you suspect your horse may be dehydrated there are two simple tests you can perform. It is a good idea to practice these tests when you know your horse is hydrated so you can see what their normal response looks like.
Skin-pinch test
The first test you can do to check if your horse is dehydrated is the skin-pinch test. Pinch the skin near the point of the shoulder. If the skin snaps back quickly your horse is sufficiently hydrated. If it takes the skin two to four seconds to snap back, your horse is moderately dehydrated. If it takes longer than four seconds for the skin to snap back, your horse is severely dehydrated.
Capillary refill time (CRT)
Along with the skin-pinch test your horse's dehydration can be accessed by checking the capillary refill time (CRT). Your horse's gums should be pink and moist. Press a finger or thumb to the upper gum for a second or two. When you remove your finger the pressure point will be a lighter color. If color returns to the spot within one to two seconds, your horse is properly hydrated. If it takes longer than two seconds for the color to return, your horse is likely dehydrated.
A well-balanced electrolyte will lower the risk of dehydration, replenish lost minerals, and trigger the thirst response.
Article written by KPP staff.
Copyright (C) 2012 Kentucky Performance Products, LLC.   All rights reserved.
---

When health issues arise, always seek the advice of a licensed veterinarian who can help you choose the correct course of action for your horse. Supplements are intended to maintain healthy systems and support recovery and healing. They are not intended to treat or cure illness or injury.
---
About Kentucky Performance Products, LLC:
Since 1998, Kentucky Performance Products has simplified a horse owner's search for research-proven nutritional horse supplements that meet the challenges facing modern horses. KPP horse supplements target specific nutritional needs and are formulated to complement today's feeds, thus safeguarding against over-supplementation. Each product is scientifically formulated and made with high-quality ingredients at certified manufacturing facilities. Kentucky Performance Products is proud to offer a quality assurance promise backed by a money-back guarantee. Kentucky Performance Products brings you horse supplements you can count on because the horse that matters to you, matters to us.
Category : Electrolytes | Health & Management | Tips and Topics