Is your horse depressed?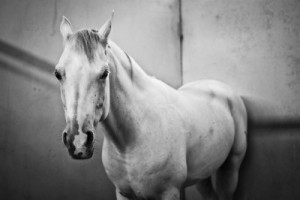 Knowing and noticing the signs of depression in your horse may alert you to illness, injury or stress that can negatively affect your horse's health and performance.
Signs of depression in horses:
- Stands facing the stall wall for periods of time while exhibiting a withdrawn posture (neck stretched out level with back, lack of eye and ear movement, eyes open, fixed gaze)
- Lack of response to tactile stimulation
- Lack of interest in treats put in feed tub
- Lack of attention to surroundings
- More emotional response to challenging situations
Causes of depression:
- Illness or injury that causes pain or discomfort
- Lack of adequate positive social interaction with other horses
- Lack of adequate exercise and/or turnout
- Stress during training, showing or in the daily routine
---

Article written by KPP staff.
Copyright (C) 2016 Kentucky Performance Products, LLC.   All rights reserved.
---
When health issues arise, always seek the advice of a licensed veterinarian who can help you choose the correct course of action for your horse. Supplements are intended to maintain healthy systems and support recovery and healing. They are not intended to treat or cure illness or injury.
---
About Kentucky Performance Products, LLC:
Since 1998, Kentucky Performance Products has simplified a horse owner's search for research-proven nutritional horse supplements that meet the challenges facing modern horses. KPP horse supplements target specific nutritional needs and are formulated to complement today's feeds, thus safeguarding against over-supplementation. Each product is scientifically formulated and made with high-quality ingredients at certified manufacturing facilities. Kentucky Performance Products is proud to offer a quality assurance promise backed by a money-back guarantee. Kentucky Performance Products brings you horse supplements you can count on because the horse that matters to you, matters to us.
Category : Health & Management | Other Topics of Interest | Tips and Topics