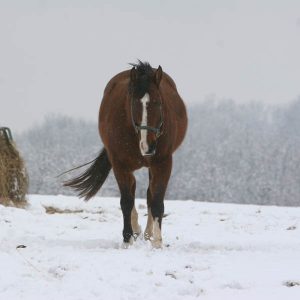 Managing Metabolically Challenged Horses in Winter
Winter can be a risky time for metabolically challenged horses. Research has shown that cold weather causes greater variability in a horse's insulin levels. Additionally, horses tend to exercise less when it is cold, which can cause insulin levels to increase.
If you have a metabolically challenged horse it is important to continue feeding a low starch and sugar diet throughout the winter months. If your horse is on medication or supplements to help control metabolic disease, continue to use them as prescribed. Keep a close eye on your horse and check in with your vet if you see any foot soreness or other out-of-the-ordinary behavior.
When additional calories are needed to keep your horse warm in cold weather, increase the amount of grass hay you feed. If you need even more calories to maintain body weight or provide energy, add a high-fat supplement that is low in starch and sugar to the diet.