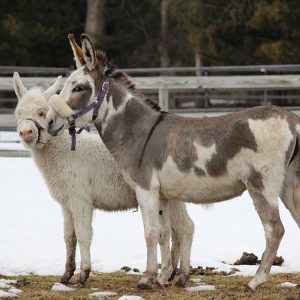 Elevate to the Rescue
In 2015, Richard Updaw of High Bottom Farm brought home Molly and her foal Holly. He shared this story with us:
Molly, the mother, had been kept in a stall for several years with no access to fresh pasture. As Holly was maturing, she did not flesh out over the back, ribs, and rump as she should have. Blood tests revealed a lack of vitamin E, and my veterinarian recommended putting her on Kentucky Performance Products' Elevate supplement. I administered Elevate W.S. orally, as directed and after switching to Elevate Concentrate, I use that as a top dressing for both animals, who get Nutrena Empower Topline Balance as a daily ration.
I'm very happy with the results from the Elevate products. Holly has filled out very nicely, and mother Molly has maintained her good rigging.