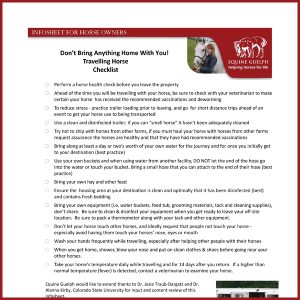 Traveling Horse Checklist
Article re-posted with kind permission by Equine Guelph: http://equineguelph.ca/index.php
Click here to download their checklist.
About Kentucky Performance Products, LLC:
Since 1998, Kentucky Performance Products has simplified a horse owner's search for research-proven nutritional horse supplements that meet the challenges facing modern horses. KPP horse supplements target specific nutritional needs and are formulated to complement today's feeds, thus safeguarding against over-supplementation. Each product is scientifically formulated and made with high-quality ingredients at certified manufacturing facilities. Kentucky Performance Products is proud to offer a quality assurance promise backed by a money-back guarantee. Kentucky Performance Products brings you horse supplements you can count on because the horse that matters to you, matters to us.
About Equine Guelph:
Equine Guelph is the horse owners' and care givers' Centre at the University of Guelph in Canada.  It is a unique partnership dedicated to the health and well-being of horses, supported and overseen by equine industry groups.  Equine Guelph is the epicentre for academia, industry and government – for the good of the equine industry as a whole.  For further information, visit www.equineguelph.ca.