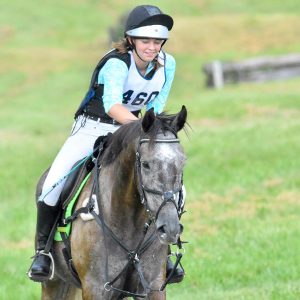 Elevate Event Team Rider Q&A with Emma Hilt
Emma Hilt is from Lexington, Kentucky. She is the youngest and newest rider to join the Elevate Event Team. Emma and her sweet Thoroughbred gelding, Johnny, are perfectly suited to each other, as both are bold and brave. Originally purchased as her mom's dressage prospect, it soon became clear that with Emma in the irons, Johnny was on his way to becoming an event horse instead.
Kentucky Performance Products: What age did you start riding and how long you have been riding?
Emma Hilt: I started riding when I was eight years old. I've been riding for six years.
KPP: When did you decide you wanted to become an eventer?
EH: I decided I wanted to event about 3 years ago.
KPP: Tell us a little about the horse you are currently competing.
EH: My horse's race name is John Bailey. His barn name is Johnny and his show name is The Blues Man. He is a 5-year-old Thoroughbred gelding. He is by Cosmonaut out of Whateverwillbewillbe. Johnny is very sweet, nosy, playful and loves peppermints.
KPP: How did you and your horse find each other?
EH: Johnny was my mom's dressage prospect, but he seemed to love jumping as well. I started riding him and the two of us just clicked. Now, my mom hops on him every now and then, so, basically, I stole him from my mom.
KPP: What do you love most about your horse?
EH: I love his personality the most.
KPP: What is your biggest challenge as a rider and how do you face that challenge?
EH: My biggest challenge as a rider is the expense of this sport. I help around the barn and I babysat over the summer to help offset some of the expenses.
KPP: What is the highest level of competition you have done as a pair?
EH: We have competed in Beginner Novice at recognized horse shows and Novice at combined tests. We are planning on doing our first recognized Novice early next month.
KPP: What is your happiest competitive moment or memory?
EH: Our happiest moment was when we cleared the last jump at Johnny's first show back in April.
KPP: What advice would you give a rider new to the discipline of eventing?
EH: My advice to someone new to eventing would be to not rush anything and just be patient with yourself and your horse.
KPP: What do you like most about being part of the Elevate Event Team?
EH: I love how supportive everyone is of each other. We have so much fun together on and off horses.
KPP: What KPP supplements do you use in your feeding program?
EH: Johnny is currently on the Summer Games Electrolyte. I am going to start him on Joint Armor because of his time on the track and Ker-A-Form since he has classic Thoroughbred feet.