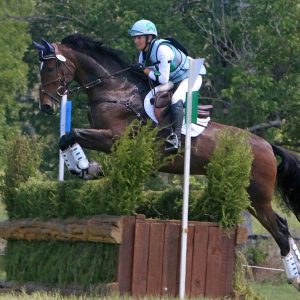 Elevate Event Team Makes a Good Showing at the Park Equine Kentucky Classique and Area VIII Championships
The Elevate Event Team arrived en mass to compete at Park Equine Kentucky Classique and Area VIII Championships. Megan was riding 4 horses, and coaching 3 riders. Times were plotted out, a coaching schedule distributed, grooms were told who needed to be where and when. The trailer area was set up in an organized manner, with all the tack each horse required set out and ready to go. We needed all hands on deck and with riding times close, it was imperative that we ran like a well-oiled machine. To everyone's delight we pulled it off!
Leo had qualified for the Area VIII championships in both the Training and Preliminary divisions, but Megan and I decided his education was more important than championships, so we entered him in Open Prelim division. The weather was beautiful and the pair placed 3rd with a few time penalties cross-country and 4 jumping faults in stadium. Megan captured the Area VIII championship in the Novice division on Rock Hard Attitude and the entire Elevate Event Team had a great show.
I was asked the other day how I like my new role as owner and I simply said "I love it." It is wonderful to be part of a team of riders that, while very competitive, is also fun-loving and care about each other. No matter what happens, the members of Team Elevate have each other's backs.
Park Equine Classique and Area VIII Championship results for the Elevate Event Team:
Tiffany Smith and Indy (Indigenous Gent)
3rd place Area 8 Preliminary Championship
Preliminary Adult Amateur Rider Champion
Reserve High Point TIP Award
Madeleine Mimi Richards and Whitty (Whitfield)
5th place Area 8 Training Championship
Training Young Rider Champion
High Point TIP Award
Brigitte Aickelin and Harper (Evening Melody)
3rd place Open Intermediate Division
Megan Lynn and her 4 rides
Biggin (Rock Hard Attitude) – Area 8 Novice Champion, Novice Adult Rider Champion
Zeke (Have At It Playboy) – 2nd place Open Prelim Division, Reserve High Point TIP Award
Leo (The Natural E) – 3rd place Open Prelim Division
The Blues Man (aka Johnny, owned by Karlee Weis Hilt) – 1st place Beginner Novice B Division (Johnny's first recognized HT!!)
A huge thank-you to Stacy Anastasia Curwood, who had to withdraw her boy Sparky due to a foot abscess, for hauling horses and doing a great job grooming all weekend! And finally to our amazing support crew—Bob and Cindy Ponder Lynn, Mike Young, Wendy Young, Sarah Jane Young, Becky Young, Suzie Bello Richards, Mary Fike (Harrington Mill Farm), and Patty Hall Aickelin. We could not have done it without you!
Karen