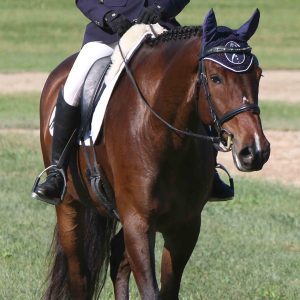 Blue Hill Boot Camp
It has been a busy summer for the Elevate Event Team. Megan has taken on several new students and horses, as well as keeping up a vigorous conditioning, training and competition schedule for her own guys. Like all horse folks, mornings start early with barn chores. Then the days are filled with riding and teaching and working at the hospital, and most nights end with a fitness workout or run under the moonlight before falling into bed at 11 p.m. Only the most dedicated keep up that pace, but Megan does it with a smile on her face.
The Elevate Event Team spent two 2-week sessions training at Blue Hill Farm in Pennsylvania, one in early June and another in August. Blue Hill boot camp tests the commitment of the riders and the fitness of the horses. The riders participated in a daily "running of the hill." Down and back, down and back. Each time they made it to the top they had to do reps of planking, pushups and lunges, all on top of regularly scheduled lessons and conditioning sessions for the horses. The horses and riders fine-tuned their dressage movements under the keen eye of Jessica Ransehousen. They schooled with Missy Ransehousen in the outdoor jumping arena where they faced an array of challenging gymnastics and courses. Regardless of all the hard work that went on during the day, the evenings were spent laughing with teammates and reconnecting with local friends.
In June, Leo and Stacy Curwood's Sparky (Special Dark) were loaded into the trailer well before dawn and we headed northeast, our destination Blue Hill Farm. The route took us over the mountains towards the east coast. As we climbed and plunged up and down the steep hills it became apparent something was not right with the trucks brakes. After a particularly hair-raising descent with the steering wheel practically shaking out of Megan's hands, we pulled over at a truck stop. It turned out the diesel mechanics were not permitted to work on private vehicles so it was suggested we contact the local Chevy dealer. That was a less-than-satisfactory conversation. The service manager was totally unsympathetic and in fact downright rude. His attitude was, 'How was our emergency any different than the 10 others that had called him that day?'
His actual response was, "I can't help you." At this point, desperation was beginning to set in. We didn't want to go any farther for fear the brakes would cease to function completely. We had visions of the trailer careening up a runaway truck ramp or worse! We were caught in the middle, too far from home and not close enough to Blue Hill.
Another plea to the truck stop's diesel mechanic sent us "down the road apiece" looking for a small local auto repair shop. We pulled up across from the sign and Megan walked in the front door and into a beauty salon. What the heck? "Go around back," she was told.
A bit frazzled and frustrated at this point, Megan walked around the corner and blurted out to the gentleman standing in the garage, "I have a trailer full of horses. I am 5 hours from home and 6 hours from where I am going. There is something wrong with my brakes and if you don't want to see a blonde girl cry, you need to help me!"
He didn't want to see a blonde girl cry, and he did help. He assured us the brakes would not fail, but they needed to be replaced. He adjusted the trailer brakes to relieve some of the load on them, told us to take it slow and we would be fine. Our faith in the world renewed, we carefully made our way to Blue Hill. I, for one, was never so happy to see the Blue Hill sign!
During this trip, Megan and Stacy competed at the Plantation Fields Horse Trail.  Megan and Leo (The Natural E) won the Training Horse division on her dressage score. Leo was a star over the cross-country course that contained several jumps he had never seen before. True to form, "when in doubt jump higher" served him well as he soared over the max table and picked his way through the plantation ruins. Stacy and Sparky (Special Dark) had a great show placing 3rd in Novice Horse with a dressage score of 31.5 and only 4 jumping faults in stadium. Sparky galloped around the Novice cross-country course like a seasoned veteran instead of the inexperienced youngster he is.
Before they left Pennsylvania in June, Megan and Leo took the opportunity to school cross-country with Missy at Boyd Martin's amazing facility Windurra. Leo was introduced to many of the first preliminary questions he would face as he moved up. He jumped willing over skinny chevrons and schooled over multiple down banks, ditches and jumps in and out of the water. "Looks like he is ready to move up to me," Missy said. Megan just grinned.
Karen