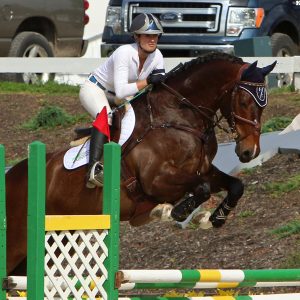 Let the Summer Season Begin!
The spring of 2016 was a wet one in Kentucky. The Natural E (aka Leo) took full advantage of the mud by wallowing in it daily. Each afternoon he would kindly transfer the thick coating of mud onto me as I worked to uncover the shiny coat I knew was under there somewhere. You know your horse is a true mudder when after you are done grooming there is a pile of dirt on the floor over an inch deep.
Unfortunately, missing shoes were the theme of the month. Between the constant mud waterlogging his feet and his big stride, he came in with one shoe or the other missing almost weekly. Thank goodness Mike, Leo's blacksmith, likes him so much, because he was visiting him a lot!
Megan and Leo were starting to work together like a well-oiled machine. He was really getting the hang of the trot lengthening and you could tell he liked showing it off. He was no longer moving behind the vertical, but instead he was coming through from behind and remaining nicely forward and balanced. Megan continued his education over fences, insisting he stay soft and adjustable—some days that was easier to accomplish than others! Leo did get opinionated now and then.
Megan alternated her training sessions between dressage, stadium jumping and fitness work as she prepared for the launch of the spring show season. She added in some relaxing hacks to give Leo a break, although he wasn't sure relaxation was the purpose of a hack. He was much more interested in getting charged up over the miniature ponies and various wildlife they seemed to constantly encounter! Megan would arrive back at the barn after a hack just shaking her head. Sometimes a fit, 17.3 hand, 1,300-pound warmblood with a playful attitude can be a challenge.
May 7th marked the opening of the Elevate Event Team's summer show season. On a damp morning we set off to the Penny Oaks Horse Trials at Hoosier Horse Park in Indiana. Due to a deluge of rain, the cross-country course was under water so the horse trial was run as a combined test instead. We pulled into one of the drier spots and parked next to a rig with some chunky quarter horses tied up to it. Being an immigrant to this country, Leo had never seen a rodeo horse before. Penny Oaks was to be his first opportunity.
Unfortunately, the rodeo ring was opposite the dressage ring, and it was all Megan could do to keep Leo's mind on his test. He was fascinated with those stocky little horses and fat cows running around "over yonder" and he really wanted to stop and take a good long look! Megan got him though it and they scored a respectable 29.8.
In keeping with the recent theme of the past month, Leo sprung a front shoe while we were getting ready for stadium.   I thought it was all over for the day, but Megan wasn't about to quit. She sent me in search of the farrier and followed along behind with Leo's tack in hand. The pair went from the farrier to the warmup ring, and it didn't seem to faze them a bit as they put in a double clear round. Eventers are a very resilient bunch. Leo and Megan went on to win the Training Horse division, even after gawking at the rodeo horses and losing a shoe!
In between competing Leo, Megan coached the rest of the Elevate Event Team's riders. Stacy Curwood and Sparky placed 5th in the Novice division, Tiffany Smith and Indy placed 2nd in Prelim, and Mimi Richards riding Whitty was 5th in Training B.
We had one more goal to achieve on the way home: a highly anticipated celebratory dinner at Culver's. I am not sure what they thought of the slightly damp, very muddy, funny-smelling crew that rolled in the door, but they served us with a smile anyway.
Next up was May-Daze Horse Trial in Lexington. We put up the new Elevate Event Team banners and moved lock, stock and barrel into the barn at the Kentucky Horse Park. We had a big cheering squad who brought all kinds of tasty treats and good things to eat. Leo squeezed his big frame into the 10×10 stall with his name on it, happy to spend most of his time harassing anyone who sat within reach, the stall guard allowing him plenty of options. Treats are always Leo's number one priority and if you are a human, you must have the ability to provide treats! Apple, carrot, mint, potato chip?? He is relentless in his begging. Leo also likes to help you get items out of tack box. "Hey, I know there are mints in that box, let me help you find them!" He reminds me of an elementary school boy with too much energy. He just needed to go out and play.
The show went well except for that one moment of pure panic when Megan showed up at the stadium ring (the one way over by the Rolex Stadium) on her young horse Biggin, only to be told they were supposed to be at cross-country. What??? How??? Apparently "they" had swapped the stadium and cross-country times for this division! We were not the only ones that didn't get the message about the time changes as several other riders were seen rushing back toward the barns. Megan took off at a trot in the direction of the stable, with Mimi and Brigitte in hot pursuit. This old gal ran about halfway back and gave up. Thank goodness for young legs, is all I can say.
Luckily we had all of Megan's XC equipment laid out and the girls helped her make a quick change. Megan and Biggin galloped out of start box on time and put in a double clear round! Never a dull moment.
Leo was "perfect" (but I am biased, so you have to remember that). He finished on his dressage score and won the Training Horse Division. Mimi and Whitty finished 2nd in Jr. Training—they were rock stars in cross-country. Tiffany was over the moon having completed her first Prelim with Indy. Megan took another blue on Biggin (Rock Hard Attitude) in Novice Horse. I would say a good time was had by all.