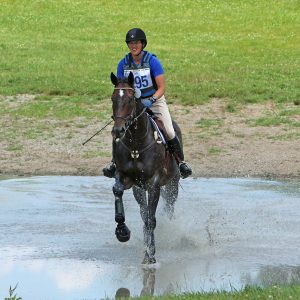 Elevate Event Team Rider Q&A with Stacy Curwood
Stacy Curwood  is a seasoned  Event rider based in Versailles, Kentucky. Her current ride is a 6 year old OTTB affectionately known as Sparky or Sparkles.  His show name is Special Dark, like the chocolate!  Stacy is having a ball developing this talented young horse.
Kentucky Performance Products: How did you get started riding?
Stacy Curwood: I was a city kid but I begged my parents for lessons until they gave in. Luckily my dad worked with someone whose daughter rode, so he was able to ask where he could take me to learn to ride.
KPP: When did you decide you wanted to become an eventer?
SC: I had been riding for about five years. I had started taking lessons at a barn that was involved with Pony Club and got introduced to eventing. My parents were happy with my new interest because it meant I didn't need an expensive children's hunter or equitation horse and they were able to get a horse with the help of my grandmother. They got me a safe, but not fancy, Appaloosa named Made in the Shade.
KPP: Tell us about the horse you have now.
SC: My current competition horse is a character named Sparky, or Special Dark at the shows. He's registered with the Jockey Club as Equus Makus Brokus, I kid you not! I decided not to encourage fate and changed his name to reflect his dreamy dark chocolate coat and, well, specialness. He was foaled in 2010 and was quite well-bred to race: he is by the accomplished stallion Medaglia D'Oro (Rachel Alexandra and Songbird are two of his best offspring), and out of a Fusaichi Pegasus mare called Witten, herself a stakes winner in Europe. He was bred here in the Bluegrass and grew up at Lane's End Farm's Oak Tree division. He then sold at the Keeneland yearling sale and trained to race, but never started.
KPP: How did you and your horse find each other?
SC: My previous competitive partner, the wonderful Cat Burglar (Taco), was experiencing more and more discomfort due to aging and arthritis. My veterinarian, seeing that Taco's career as an eventer was winding down, suggested that I look at a picture and video of Sparky. Two days later, he was on a trailer and on his way to me, sight unseen! I had the option to send him back to the seller, but when I got on I knew I would keep him.
KPP: What do you love most about Sparky?
SC: His brain. He's a very sensible guy, simultaneously incredibly opinionated and incredibly game for what's next. He's careful and has a good sense of self-preservation, which makes me feel safe on him when we are jumping. Also he is a little goofy. And, finally, he's rather handsome and he knows it.
KPP: What is your biggest challenge as a rider and how do you face that challenge?
SC: My biggest challenge is maintaining my confidence. I work hard to quiet negative self-talk and think positively and proactively about how to improve as a rider instead. I tend to overanalyze mistakes and minimize what is going right, so I lose perspective and start riding backward. Elevate Event Team's Megan has made a huge difference in this regard and helps me think forward and trust my feel more.
KPP: What is the highest level of competition you and Sparky have done as a pair?
SC: We're at Novice now, and we'll hang out here for a little while. He's been excellent at his first two Novice events.
KPP: What is your happiest competitive memory?
SC: That has to be the Steeplechase phase at the Indiana Training Three-Day Event with Taco in 2011. It felt fun and easy, and I'd love to have that feeling again. Perhaps Sparky will want to give Steeplechase a try!
KPP: What advice would you give a rider new to the discipline of eventing?
SC: Volunteer! It is the easiest way to get a crash course in the sport, get to know people, and get the best seat in the house. Plus, usually there is plenty of chocolate. If you're not sure where to start, look up the closest competition to you on the USEA website and email the organizer. He or she will be thrilled to hear from you!
KPP: What do you like most about being part of the Elevate Event Team?
SC: Everyone's positive attitudes! We remember that we do this sport because we love it and we can push ourselves to be better riders and horsewomen while we're having fun. I'm so happy to be part of the team!
KPP: Which KPP supplements do you use in your horse's feeding program?
SC: EquiJewel, Elevate W. S., Elevate Maintenance Powder, Summer Games Electrolyte, ProbioticWise.