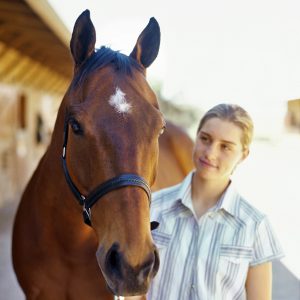 Gastric Ulcers in Recreational Horses
Do you believe gastric ulcers affect only high-performance athletes such as racehorses or Olympic contenders?
Do you believe it takes weeks and perhaps months for gastric ulcers to develop?
Do you believe gastric ulcers don't derail performance?
Once thought to be a menace only to elite equine athletes, gastric ulcers can develop within five days of exposure to a recreational show or event, according to a recent study. Signs of gastric ulcers include poor attitude, decreased appetite, weight loss, chronic colic and diarrhea, dull coat, and decreased performance.
In a study published in the Journal of the American Veterinary Medical Association researchers concluded that gastric ulcers occur in as many as seven of 10 horses subjected to normal activities related to weekend show travel.
Twenty horses were used in the study. At the onset of the study all were housed in paddocks and through the use of endoscopy were found to have normal stomachs with no signs of ulceration. Ten of the horses were then exposed to a course of events similar to those that would occur during a weekend horse show: four hours of transport to an unfamiliar facility; three days of light training; near-constant stall confinement; twice-daily feedings; and a four-hour return trip. The other 10 horses served as the control group and remained in the paddock at the original location. On the day after the horses returned from their journey, all 20 underwent a second endoscopy.
Of the 10 horses that traveled, seven developed gastric ulcers within five days. In addition, two of the control horses were found to have developed ulcers, most likely due to the inevitable social re-organization of the herd after the removal of the other horses.
This study reveals how quickly horses can develop gastric ulcers even when used for recreational purposes such as weekend horse shows. The research highlights the necessity for preventing gastric ulcers in horses.
For many years, horsemen have been relying on Neigh- Lox to do just that—create a gastric environment that is less conducive to the development of gastric ulcers. Because Neigh-Lox lowers the acidity of the stomach contents and coats the stomach lining, ulcers have less chance to take hold. A stomach kept healthy by Neigh-Lox translates into top performance, anywhere and anytime.
Neigh-Lox is a palatable, pelleted supplemented that comes in a handy, travel-size 3.5-pound bucket or a 25-pound bucket.