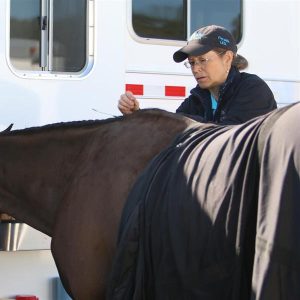 Passion
Passion: "a strong or extravagant fondness, enthusiasm, or desire." My passion for horses started young and, as I have recently learned, will never die. For years I was consumed with taking care of horses—it was a full time job—but I put my passion aside for a time while I raised a couple of awesome kids and established a successful business.
With the creation of the Elevate Event Team, I figured the time had come to rekindle that passion and see just how much was left. This past February I spent 10 days helping out at Blue Hill South, and it proved to me that passion never dies. I was reminded why passion is so important. Passion makes hard work seem like fun; it takes problems and turns them into challenges; it forms bonds of love and friendship that last a lifetime.
Without passion, I am convinced the sport of eventing would not exist. The amount of hard work, patience, time and guts it takes to compete in this sport at any level is impressive. Experiencing day-to-day life at Blue Hill South was awe-inspiring. The work started before the sun came up and ended well after sunset. Horses were brought in and turned out; blankets put on and pulled off. Meals were mixed and fed four times a day, hay replenished constantly. Stalls were mucked and then picked throughout the day. Water buckets cleaned, filled and topped off as needed.
Horses were groomed, bathed and cooled out; legs were accessed, icing commenced, poultices were applied, manes were pulled, and legs were clipped. Tack and equipment was cleaned. Trailers were bedded and loaded, and later unloaded and mucked out, and it was nonstop activity.
All the while, each rider made sure their horses were getting the best possible care and it showed in their fit bodies, shiny coats and happy dispositions. Within days, any horse that came to the farm a little underweight or stressed out started to relax and gain condition. The entire time, dogs ran happily about and everyone pitched in to help.
But the work didn't stop on the ground. Training and fitness schedules were set and followed for each horse and rider. From dawn till dusk, under the watchful eyes of Jessica and Missy, the riders would patiently work with their mounts to achieve the goal of the day. When challenges arose, strategies were discussed, new approaches taken and problems were solved. Accomplishments were celebrated with big smiles all around. And passion was the fuel that ran it all .
During those 10 days I jumped in to help whenever and wherever I could: blanketing, grooming, feeding, mucking, bathing, cleaning, loading, unloading. I watched and learned as riders schooled, conditioned and took lessons. It was like coming home again after a long trip and I knew my passion was as strong as ever. It is an awesome feeling.
Karen