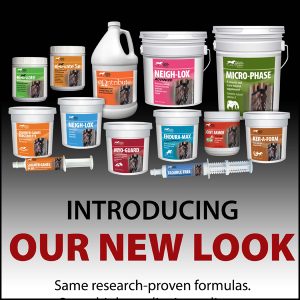 Kentucky Performance Products Introduces New Look to Their Packaging
FOR IMMEDIATE RELEASE
Contact: Becky Young
1-800-772-1988
859-873-2974
byoung@KPPusa.com
Kentucky Performance Products introduces new look to their packaging
VERSAILLES, Ky. (Feb. 10, 2016) – Kentucky Performance Products, LLC, a leading equine supplement company, is excited to introduce a fresh new look to their packaging.
"In 2015 we decided it was time for a packaging update," said Karen Isberg, owner of Kentucky Performance Products. "We worked with our graphic designer to create a fresh new look that maintained the images our customers have come to associate with our products. Kentucky Performance Products' supplements still contain the same research-proven formulas and high-quality ingredients our customers have come to expect. Nothing has changed in that respect."
"Kentucky Performance Products' supplement line was developed over a period of many years," said graphic designer Sheri Wood. "Each package was designed at a different time, and labels were set up to meet specific packaging requirements. Updating the entire line at once was an exciting project. It allowed us to develop a more cohesive design. The new design reflects the passion our customers feel for the horses they take care of. Colors and symbols from the original packaging were incorporated into the redesign to help customers quickly recognize their favorite products."
For more information on Kentucky Performance Products' new look, visit www.KPPusa.com.
Kentucky Performance Products markets a complete line of research-proven horse supplements, including Neigh-Lox® Advanced, Elevate® natural vitamin E and Summer Games® Electrolyte. For more information about Kentucky Performance Products supplements, visit www.KPPusa.com or call 859-873-2974.
About Kentucky Performance Products, LLC:
www.KPPusa.com
The horse that matters to you matters to Kentucky Performance Products. For over 20 years the knowledgeable staff at Kentucky Performance Products has been dedicated to developing high-quality, scientifically formulated nutritional supplements. Kentucky Performance Products provides horse owners with supplements that effectively target and address the specific challenges facing their horses. They have a full line of products, including market leaders Equi-Jewel® stabilized rice bran, Neigh-Lox® Advanced complete digestive support, and Elevate® natural vitamin E. At Kentucky Performance Products, superior customer service is as important as quality ingredients and proper formulation. Their product specialists are available to answer your questions and help you decide which supplement is best for your horse. Kentucky Performance Products stands behind their products by offering a quality assurance promise backed by a money-back guarantee. To learn more, visit KPPusa.com or call 1-800-772-1988 and ask to speak to a product specialist.