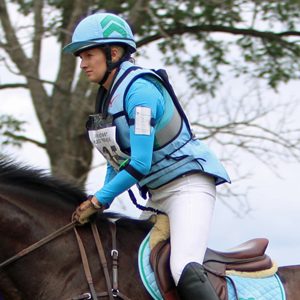 Dressed to Kill – Rider Safety Is Always in Fashion
Article re-posted with kind permission by Equine Guelph: www.equineguelph.ca
Story by: Jackie Bellamy-Zions
If you enjoyed Equine Guelph's Plan A Head article last August, you already understand the importance of wearing a helmet. You are not willing to risk vegetable brain to avoid helmet head and you know the importance of choosing a helmet safety approved for horse riding not cycling; but what about the rest of your ensemble? Regardless of your riding discipline, safety starts at the head and continues all the way down to the toes.
Give Improper Footwear the Boot
You could be dressed to kill if your riding boots do not sport a wedge heel. A moment of imbalance is all it takes for a foot to slide through the stirrup creating the potential for a nasty accident. Being dragged by the ankle rarely ends well for the rider. Wearing a boot with a low wedge heel and ankle support significantly reduces your chances of dangling upside down from an animal that flees danger first and asks questions later. Types of sole and tread also require consideration. Extra heavy treads or waffle treads commonly found on hiking and winter boots should be avoided as they can become jammed in the stirrup. Many riding schools also use safety stirrups, equipped with an elastic band on the outer edge of the stirrup which breaks away in case of an involuntary dismount.
Accessories to Axe
While on the topic of aversions to being dragged – let's talk about bling. You can find it at every horse show now – from rhinestone brow bands to helmets adorned with gems. There are so many ways to stand out but steer clear of jewelry that dangles. Necklaces, bracelets and hanging earrings are all accessories that can become snagged. Keep your look streamlined right down to braiding long hair or tucking it into a show bow.
Get a Grip
The same goes for riding gloves – they should be a snug fit and non-slip. Gloves are highly recommended whenever you are riding or leading a horse. They provide protection against friction burns, calluses, blisters, not to mention the weather.
Smart for any Season 
Then again, we do need to mention the weather. What is the old saying? – There is no bad weather, just wrong clothes. Vests are quite popular when the temperature starts to drop as they allow riders to maintain mobility and comfort. Large bulky clothing can easily be caught on equipment or objects. Riding apparel is close fitting for a reason. Chaps, half chaps and breeches are designed to provide grip and protect the rider from friction sores. They come in a wide variety of materials for all seasons so dress for the weather. While equestrian specific leg wear is not a riding necessity it is a good investment for the serious rider. If you are still testing the waters be sure to avoid pants with prominent inseams and any leg wear that wrinkles or bunches along the inside.
Body protectors are available to help protect your torso if you fall. They are not just for eventers anymore! Rodeo riders are all wearing them now, along with speed games competitors, jumpers, long distance riders, trainers starting young stock, pleasure riders…even dressage riders under their show jackets.
For riders putting on the miles – high visibility clothing is a must. Brightly coloured safety vests are perfect for those travelling on roads. They help ensure you are seen and send a clear message that you should be given a wide berth. Further road safety tips include: telling a responsible party where you are going and ETA for return, carrying a cell phone (turned off so it does not spook your horse) and bringing your health card.
Whether you are hitting the trail, going cross country or riding in the ring, outfit yourself head to toe in smart, safe riding gear. Maximize your enjoyment of riding while reducing your risk.