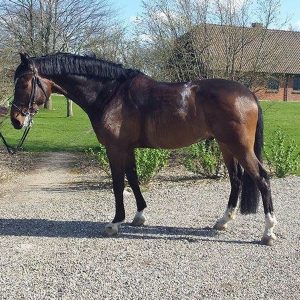 Finding The Natural E (aka Leo) – How the Adventure Began
By Karen Isberg
The Elevate Event Team had become a reality. It was something I always wanted to do—own an advanced level event horse. Over the last few months the team fell into place as if it was meant to be, with Olympic level trainers, a talented rider and a doable budget. Now all we needed was the horse. Make that one very special horse. (Photo to right is the first photo we got of Leo.)
It takes a certain kind of equine athlete to compete as an upper-level event horse. He or she must have good bone, a big jump and an even bigger heart. Confident, sane, smart and sound were key traits we were looking for in our Elevate Event Team horse. Megan Lynn, EET's rider, had worked with OTTBs most of her career, so she was keen to find a forward-thinking horse, hot off her leg and ready to go. She was looking for a partner that would help her achieve her lifelong dream of riding in the big events: Rolex, Burleigh, Badminton, possibly the Olympic Games. No pressure…
The search in the U.S. had turned up a few prospects but nothing Megan really loved. The relationship between an upper-level horse and rider is critical, so we were willing to wait for just the right horse. One day the phone rang. It was Megan. "Missy wants me to fly to Germany," she said. I could tell she was excited. "She will be there and she has arranged for me to go horse shopping. Is it possible to get me a plane ticket to Hamburg for next week? " I remember thinking to myself , "Holy cow, this is the real deal."
Flights were booked and on Sunday April 26th Megan departed Cincinnati Airport for a weeklong shopping trip in Germany and Denmark. She was going to meet up with some associates of Missy Ransehousen, Babsi and Martha, in Hamburg. Megan would be traveling with the two women, who at the time we knew little about, but if Missy Ransehousen said they were the best, that was good enough for us. Megan stepped on the plane with a partial list of horses, but few other details.
Megan, Babsi and Martha found each other in the bustling Hamburg airport and the adventure began. The three were soon best buddies. Megan became known as "the Kidlet," Babsi was dubbed "Aunty Babsi" and Martha, "Momma Martha." Babsi Neidhardt-Clark and Martha Thomas were no strangers to horse shopping, having imported many talented Danish warmbloods since the establishment of their business Sycamore Station in 2007.
Megan was having the time of her life riding 4 or 5 horses a day, traveling all over Germany and into Denmark. Meanwhile, I sat in Kentucky waiting eagerly for the daily emails, photos, text messages and videos of the horses she had ridden. The girls spent many a late night fighting with poor Internet connectivity, but they managed to keep me up to date.
One horse already stood out in the crowd. His nickname, given to him by Babsi and Martha, was the Bad Ass horse. He was big, he was bold and he was forward. He was a gorgeous dark brown Danish gelding with a star, snip and four white socks.
Babsi and Martha had taken a lot of hopeful owners horse-shopping in Europe, so they had a system. They prescreen each horse before the perspective buyer ever sees them. Babsi, an FEI gold medalist in dressage, has more than 30 years' experience training and teaching. A very well-rounded rider, she has ridden at the top levels of 3 disciplines: jumping, eventing, and dressage. Martha was an FEI silver medalist and taught dressage. They recognized the Bad Ass horse was special, but he was big and strong and needed an experienced rider. They had no idea how Megan rode, so they waited until the end of the second day to introduce the pair. By the time they arrived to try Bad Ass, there was no doubt in their minds that Megan could handle him. It was practically love at first sight. The first time Megan rode him she was in a saddle 3 sizes too large, but it didn't matter. The two just clicked.
That afternoon (evening in Germany) I got an email with several numbered photos attached. It read, "Number 5 is the one known as Bad Ass horse. Holy Moly this thing could jump!!! He is a fantastic mover. Super quick off his feet. Only downside of him is he hasn't XC schooled. Jumper owner says he is very brave. He is 7 and 17 hh."
I wanted Megan to pick the right horse for her so I had been fairly neutral with most of my comments up until now. My response after this email was " I REALLY like number 5."
Megan rode Bad Ass three more times and each time went better than the last. He did whatever she asked. The trainer even created some makeshift XC fences for the pair to try. He turned his garden into a mini bank and pulled a log out of the woods for them to jump. Bad Ass not only jumped everything they aimed him at, but he loved it. He was totally confident over fences. He was also a very personable, happy horse. He liked people and he liked attention. He certainly liked his new crazy American friend Megan and she liked him.
Missy arrived in Denmark the next day and rode the Bad Ass boy , then she watched Megan ride him. She approved of the pair. "This is a really cool horse," Missy said. Babsi and Martha shared their thoughts: "The two made a fantastic pair. This horse had a lot of potential." The team was in agreement and Bad Ass moved to the top of the list.
It was time for the girls to move on, because they had more horses to see. Megan admitted from then on she compared all the rest of the horses to Bad Ass and they all came up a short. She had found her horse. He passed the pre-purchase exam. A flight to the U.S. was arranged for the Bad Ass horse, registered as Ommestrupgards Linardo and soon to be know as The Natural E, or "Leo" for short. On June 6, 2015, he landed at JFK Airport to begin his career as an upper-level event horse. I don't know who is more excited about this new venture—Megan, me or Leo himself.
---
Flash-forward. Leo won the Open Novice Division at the Jump Start Horse Trials, finishing on his dressage score of 21.3.  Next up is the Hagyard Midsouth Team Challenge this weekend.