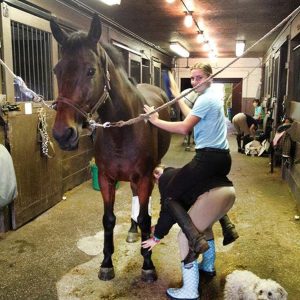 A Day Working with Megan
This week Team Have It's blog is being overtaken by Brigitte Aickelin. Brigitte works for Missy Ransehousen and is in Florida this winter with Megan. Brigitte is awesome and has become the official videographer, photographer, and technical advisor for Megan:) Thank you Brigitte for the video and photo updates from Florida. This week Brigitte tells us what it is like to work with Megan.
I have only known Megan for 2 years but it feels like a lifetime. She and I met at Blue Hill Farm in Pennsylvania and immediately clicked. We had so much in common and our friendship just took off, at least from my point of view. I didn't know what to expect really. I was the new girl on the block at the time. She was coming from Kentucky to spend a few weeks with Missy again, after being in Florida.
At first we just did hills and trot sets together and let me tell you, there wasn't a single quiet moment on ANY of those rides. We laughed and talked about life and just had a fantastic time whenever we did anything together. I can honestly say that it was and is extremely fun to work with her. She's the right amount of crazy and serious.
Megan manages to squeeze every drop of time out of the day to finish everything she sets out to accomplish. She's hard working, great attitude, fun loving, fun to be around, and gets the job done by sticking to a plan. She just takes one thing at a time throughout the day but enjoys every minute of her work. You can really tell she's passionate about what she does and about all the horses. She loves her job to the utmost extent. She does take it very seriously but knows how to have fun and I think that's one of her strongest attributes.
Just like everyone else, she does have her bad days, but somehow I manage to perk her up even the slightest so her mood improves 🙂 other days she just needs some chocolate thrown at her and you RUN away (said with love).
I think she's a wonderful rider and instructor. She is cautious enough that both horse and rider understand what they are supposed to be doing. She is an exceptional friend too. There's NEVER a dull moment and just when you think there might be, something happens and everyone laughs.
Working with Megan is a true joy and I wouldn't trade it for the world. I've met some pretty wonderful people in my life and she's up there in the rankings for sure. I'm happy to call her my co-worker, but most importantly my friend.
Brigitte Aickelin