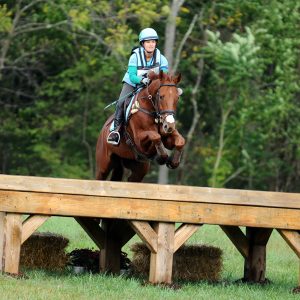 Great End to the Season
Hey everyone, hope all of you are doing well and preparing for this cooler weather! I'm definitely not ready for the weather change, and I find this time change seriously interfering with my riding time. I know it's been a few weeks since my last blog so I want to recap on my last show with Hoosier. It was an awesome show to end the season on.
After Plantation we changed the plan to do Morven CIC2* instead of Fair Hill CCI2*. Hoosier stayed with his favorite person, Missy, while I went home to work and regenerate my bank account. It didn't seem fair to trailer him back home for 10 hours and then a week later trailer him back 10 more hours. With the great care of Brigitte Aickelin, and the rest of the Blue Hill Farm crew, Hoosier was on top of his game and ready to go by the time I got back. I also had that week at home to talk Aunt Becky into coming up and helping me at Morven. She graciously agreed when I threatened her with hugs. (Anyone who knows Aunt Becky knows she's not into hugs….AT ALL.)
We warmed up great, just like the last show. Hoosier was being soft and forward. We went down the center line, had a nice halt and salute, but in the first turn he hit himself with his front legs (Hoosier is super base narrow) and he took some off steps in the shoulder into the half turn, so our first impression was ruined and we just never redeemed ourselves in the scoring. His canter work was nice, but just got average scores.
Our Stadium was interesting, and somewhat entertaining. He had not jumped since Plantation, just because we wanted to save his legs, but Hoosier thought it was a little too much fun and was bucking after every fence in warm-up. When we went in, he was pretty good, except when he took off bucking slightly and it took me a bit to get him back, which caused us some time. We only had one rail down, but it was my fault—I got him in too deep to a vertical going downhill in the grass. Overall, I was pretty happy with our round. Rails were going down left and right, and he only had one down around a tough course.
I couldn't have been more thrilled with how cross-country went. I have to admit I was pretty nervous. We had gotten a lot of rain the day and night before so the ground was wet, and while I was in warm-up all I could hear from the announcer were all the problems occurring on course. But I focused and got into the start box. Over the first several fences he felt great. Fence 5 was our first real question. It was a skinny hanging rail, going downhill bending right, to a left-handed corner. Hoosier was fantastic through that! They later took that question off the course because of all the problems and falls it was causing. The rest of the course he made it seem effortless and easy. There is not a better feeling then coming off a two-star course and it feeling easy and being so grateful for my awesome horse.
This past week I had Hoosier's sutures taken out from his tie-back a year ago so we can get rid of the recurring abscess in his neck. He came out of the surgery great and I'm already eager for next year's show season.
Until next time, safe rides!
Megan