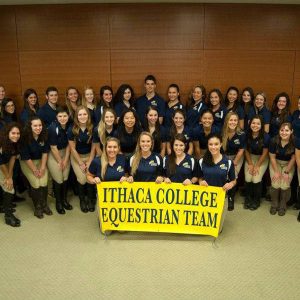 Kentucky Performance Products Is Excited to Support the Ithaca College Equestrian Team
Nestled in the Finger Lakes region of New York, Ithaca College offers a wide variety of varsity sports, clubs, and activities to its 6,000 undergraduate students. Among those club sports is the Ithaca College Equestrian Team. With a roster of over 30 riders, ranging from beginner walk-trot to former Grand Prix competitors, ICET offers riders of all backgrounds the opportunity to train, learn, and compete in a tight-knit team atmosphere. In the 2013-2014 season, ICET ranked fourth among competitors in Intercollegiate Horse Show Association Zone II Region I.
ICET calls If Only Farm, a privately owned equestrian center run by Susan and Bill Lowe, its home. IOF sits on 95 acres of land approximately 10 minutes from Cornell University Veterinary School. IOF is home to more than 40 school-owned and privately owned horses and ponies. Along with a cross-country jump field, two indoor rings, two outdoor rings, and professional show jumps, IOF offers complete training programs to ICET as well as private clientele. Among some of the school horses ICET uses are Wilbur, a former Children's jumper and giant teddy bear; Celtic, a cross-country star and popular team diva; and Zoey, a sassy Hanovarian/Welsh pony. ICET's coach, Audra Ravo Putnam, is a former alumna of the team. Joining her in the trainer task force is Terry Spada, veteran trainer at IOF who excels at starting young horses and ponies, and Susan Lowe, owner of If Only Farm and veteran horse trainer.