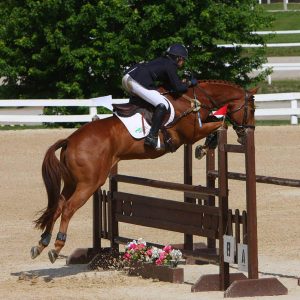 Summer Update
Hey guys. I thought I would give you an update on the boys!
Hoosier is doing great. I have to be careful in this heat because of his lungs, but he is feeling fantastic! I recently took him to a show and just did the IP to get us out doing something and he was great. He had a lower dressage score, clear stadium, and clear cross-country with just a few time penalties (didn't feel the need to run his legs off at an IP to make time). I mainly used the show as a schooling show so I could truly focus on us and couldn't have been happier with how it turned out. I will be training with Missy in July and plan to show him at Fair Hill in August.
Zeke, on the other hand, is on the up and up! I took him to Hagyard's and he was negative for being neurologic (yay) but showed signs for being sore through most of his spine and back. Turns out his hips were totally out of whack and he was incapable of using his glutes, which allow the horse to pick up their legs and move them under themselves. This is why he looked neurologic, because he could only drag his feet behind.
So, prayers and fingers crossed that now he is fixed. He feels fantastic already and like a different horse! (Although now he bucks even bigger.) Hopefully there will be much to update on him in the coming months.
Last but not least, there is little Manley, who is not so little anymore! He turned 3 a couple months ago and is still in that awkward phase, but is already 16.1h. He is now getting ridden, and I'm loving him more and more every day. He is a really kind guy.
So that's the update on the boys. Until next time, safe rides!
Megan