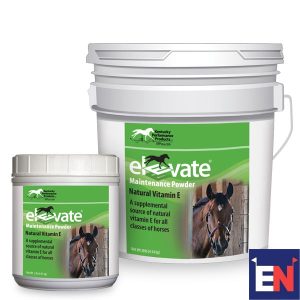 Eventing Nation Reviews Elevate® Maintenance Powder
"I thought that starting Mark on Elevate Maintenance Powder would definitely be a good thing – because I know that he was definitely missing out on Vitamin E with the way that his feeding program is set up.
The Elevate container has a lid that twists off easily, and a scoop is included for easy measuring. The supplement comes in a white colored powder format, which makes it easy to see when added to grain and swooshed around – I like the light color, because I can tell when I've swooshed the bucket enough to attain an even coating of it on Mark's grain pellets.
I started out by putting Mark on ½ a scoop of Elevate on Day 1, and within a week's time worked him up to being on 3 scoops a day due to his size (Mark is a 17.3hh horse, and I'd say is somewhere in the neighborhood of 1400-1500lb).
The Vitamin E contained in Elevate is ALL NATURAL, and not synthetic. This means that the Vitamin E is highly absorbable by the equine body. Something else that puts my mind at ease is that Elevate contains no other vitamins or minerals, so I can give Mark the amount of vitamin E he needs, without being concerned that I will cause other nutritional balances.
Within the first two weeks of being on Elevate, I absolutely started to notice a difference in him. One of the first things that I really noticed about Mark once he was on the Elevate Maintenance Powder was his improved attitude."