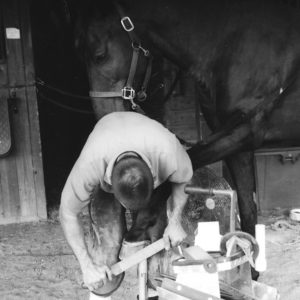 Congratulations to Kevin Young, 2014 EQUUS Professional Horseman Award Winner
The EQUUS Professional Horseman Award was developed to recognize veterinarians, trainers, farriers and other professionals who go the extra mile for their clients. This year KPP was a proud sponsor, providing a KPP High Performance Pack filled with Neigh-Lox® Advanced, Joint Armor™, Elevate® Maintenance Powder, and Summer Games® Electrolyte.
This year's winner, farrier Kevin Young, was nominated by client Lori Tankel of Florida. Entrants submitted 200-word essays about the special professional in their life.
"My farrier, Kevin Young, has gone above and beyond what is required of a farrier, so many times. Once, my daughter's mare managed to pull 3 nails out of a hind shoe, a week before we were headed out of state for a horse trial. Kevin was out of town, but arranged for another farrier to meet us at a clinic we were attending, who pulled up, put the nails back in, and went on his way.
"Another time, one of our rescues had lost a shoe, critical for him being comfortable. Despite living over an hour away, Kevin drove another hour to Ocala to pick up the special shoe and then came and put the shoe back on and only charged for the cost of the shoe.
"Yet another time, we had purchased a TB who had less than stellar feet. It was summer, lots of rain and shoes would not stay on, so Kevin put glue-on shoes on. Bates for some reason was sore on one hoof after being shod and Kevin came on a Saturday evening on his way home from a conference with his wife and spent 2 hours trying to get Bates comfortable. When Bates accompanied my daughter to college in Tampa, not wanting to leave his feet to just any farrier after making so much progress, Kevin made the journey, even though it was way off his path of travels.
"I can go on and on about Kevin and his many attributes. He is always on time and extremely conscientious about doing a good job. I just wish I had more characters left to tell about him!"
KPP congratulates Lori and Kevin.