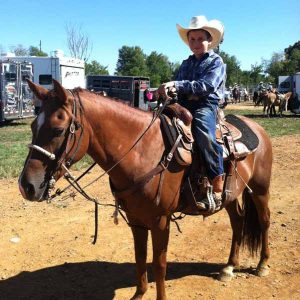 On the Rodeo Trail
HI! I've had 4 rodeos since my last blog and I've been busy! KJRA has started again and there have been 2 rodeos so far. Yogi is busy growing his winter fur and we have been doing lots of practicing. I want to learn how to dally so I can team rope. Just this past weekend my dad headed some for me so I could heel, I caught and got to dally! We also have 2 new practice goats, Rick and Fred. The other 2 goats we practice with are named Lucy and Ethel. I have no clue who Fred & Ethel and Ricky & Lucy are, just that apparently they were on a very old TV show.
Let's start with the SIJRA rodeo on Aug 17. It was a good day for me and Yogi in the Boys Goat Tying. We ended up 7th with one of our best times, a 21.093. This was the first time we entered the Break Away roping and Lead Steer Heeling at SIJRA. Not such a good day for that; we got No Time's. We also entered Barrel Racing and Pole Bending which we did OK. Yogi seems to get a little faster each time.
I really want Yogi to become a good roping pony. My dad helps me a lot and I've gotten to ride with some really good calf and team ropers. During Fall Break I had a team roping lesson with Colt Becht in IN and got to track and heel a donkey. I pen rope on Yogi on our Jersey calves at home which are very slow and gentle and dad says I have a pretty good catch percentage. He also says I should just ride Hollywood to rope off of. I ride him sometimes, but I also want to learn to train Yogi to do it. So far I think it's working OK. Mom keeps telling my dad to let me train Yogi, because it will make him worth more! I'm not sure what she means by that….
The SIJRA Finals in Salem, IN were 8/31 & 9/1 and it was HOT. On Saturday Yogi & I were 9th in Goat Tying with a 21.389 second run. Twenty one seconds is our fast time, we've been 21 about three times. We entered the Break Away roping and Lead Steer Heeling. I caught my break away calf right after the time limit buzzer! My dad headed the steer for me in Lead Steer Heeling and I caught! I think I might've just caught one foot, but it was good enough for 5th place! That night we went out to eat and it stormed and blew the tents down that we sit under during the hot days! Some of our good friends loaded all our horses and threw everyone's saddles and other stuff into trailers and trucks out of the lightning and pouring rain.
Sunday it quit raining. I didn't catch my Break Away calf or Lead Steer steer and my goat kicked out and got up. But our Barrel and Pole times improved!!! It was a good rodeo and a great time. We stopped in Louisville for steak with my rodeo friends Josh, Addey, Sam & Lucas. I think we were all tired.
On 9/21 & 9/22 we went to Hazel, KY for the first KJRA rodeo of the season. It was a muddy mess! Some of us used duct tape on our legs to tape our jeans into our boots. It kept us from getting a boot-ful of mud and water when we jumped off and tied our goats. Speaking of Goat Tying…….our 24 second run went good for being so muddy……until the goat kicked out, ooops. Actually, both my goats kicked out that weekend. Hmmmm. The good news is that I won the Dummy Roping both days. My mom brought her barrel horse to run in the KJRA fund raiser barrel race Saturday night, but Shooter got lucky and got to stay in a stall instead of run because the ground was so slick and deep.
After the Hazel rodeo, we went to our friends', Bob & Marne Loosenort's house and spent the night. I didn't have school the next day and my friend Josh got to come too! We roped with Bob the next morning and it was awesome! And Shooter ended up working after all because my mom loves to get help with barrel racing from Marne so he worked up a sweat! For some reason he is very hairy.
That week we had to attend the funeral of a very close friend, Cindy Peterson. She is the mom of my friends Sam & Lucas, we all rodeo and practice together. She lost a very hard battle with cancer. I know she was really sick but I was still a little shocked, It's very sad and kind of scary to think that can happen. I know Sam & Lucas need their friends so I try to be the best friend I can be. Cindy was a very nice lady to everyone. She was friendly and generous and always in a good mood. She liked to team rope with Sam & Lucas's dad, Brent. I know everyone who knew her misses her a lot.
We had a couple more practices before heading to the next KJRA rodeo in Cynthiana, KY Oct 12 & 13. They had another fund raiser barrel race and mom took Shooter again. She did OK but she didn't win any money. But Lucas did! He rode his horse Meatball. I had decided to enter the Chute Doggin this time. I didn't get the steer down and get a time, but I did a little better with it on Sunday than Saturday. I told my mom to enter me in it at the next rodeo. My dad is in TX right now, so I asked him if he could find a Handy-Horns. It's a plastic mask with horns you can put on a calf and practice with. Sam and Lucas have one that they let me borrow sometimes. It's really cool. And I really want to practice with it as soon as possible!
There were some new kids entered this time. One was a kindergartner named Chase who came to practice with us. He brought his miniature horse Sandy, she is cute and behaved really good. She didn't even spook at the calf sled or roping dummies or ropes. Chase entered the Dummy Roping and Mutton Bustin'. He did really good, he even rode his sheep and got a time! It was only the second sheep he'd ever got on. He really likes it! On Saturday night there was a big cook-out and trailer trick or treating and everyone dressed up for it. There was candy everywhere.
After the weekend was over, it was our families' job to take apart the whole arena and load it onto a huge trailer. OK, maybe the kids played more and the grown-ups did most of the work. Those chutes and panels are heavy. Usually whoever lives closest to each rodeo helps set it up and tear it down. As usual, we all went out to eat on the way home. Everyone was tired and hungry. Us kids like it when we get to sit at our own table, there was 5 of us. I think our parents do too…
During goat tying practice with our good friend Tina Litkenhus (who is a great cook and baker by the way!) I figured out a couple of things. One is my get-off, when you get off your horse or pony while it's still running and you kinda run along next to him and run to the goat. Before I've just sorta jumped off but this way helps you get faster times. The other thing I figured out is that the goat string I had been using was not a good one! Turns out is was too long which slowed me down getting it out of my belt loop when I tied the goat. And, it was too slick. So when the goat kicked or strained against it's tie at the rodeo, the slick string loosened up and he got up! I've been making sure to practice tying tight because it's been happening a lot lately, but now I know to use my other string because it works better. Anyone need 2 blue goat strings??
Well I need to get going. I have lots of practicing and some homework to finish. In November I have a KJRA rodeo and a youth rodeo in OH coming up. I think we have to turn in our report cards at that KJRA rodeo….eeeekk! Just kidding.
See ya,
Caden , Yogi , Hollywood & Gary (the fainting goat)