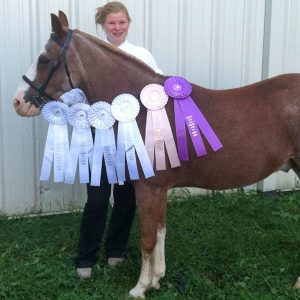 Arizona, a Little Pony With a Big Heart.
Arizona is a cute little aged pony that has found a new job helping 4-Hers become better horsemen.
Earlier in the summer this retired show pony qualified for the 2013 Virginia 4-H State Championship Horse & Pony Show in pony driving and showmanship. Upon competing he finished 4th in Pleasure Pony Driving, 4th in Pony Driving Reinsmanship, 7th in Dressage Showmanship, 4th in Pleasure Pony Driving Classics, 5th in Horse/Pony Driving Reinsmanship Classics, 4th in the photography contest, and was the winner of the 4-H state Leg Up Award, where he received a fleece cooler.
A daily dose of Joint Armor has allowed Arizona to continue doing the job he loves. "Arizona had classes or safety checks every day in his harness and his little joints did great. We are proud of our 25-30ish-year-old pony" said Lisa-Marie, Arizona's owner.
The staff at Kentucky Performance Products would like to congratulate Arizona and his 4-H family on a successful show season.