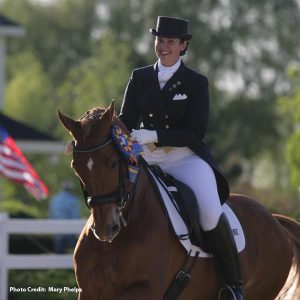 "I really appreciate working with the staff at KPP. Their knowledge and customer service is far above any other company."
Reese Koffler-Stanfield is a lifelong professional horseman who has successfully competed in the sport of dressage since early childhood. She successfully participated in USDF youth programs, including the Advanced Young Rider Program, culminating in numerous international medals while representing the United States and Region II. Reese is a United States Dressage Federation bronze, silver, gold, and gold freestyle bar medalist. As a USDF certified instructor/trainer through the fourth level, Reese is in demand as a clinician and gives numerous clinics nationwide.
Reese trained with Olympic coach Conrad Schumacher, in Hofgut Neuhof, near Frankfort, Germany, from October 1998 to May 1999, and from November 2001 to April 2002. She still trains with Coach Schumacher, as well as FEI "S" judge and world-class trainer Kathy Connelly in Wellington, Florida. Additionally, she has worked with Jessica Ransehousen, Ellen Bontje, and George Williams.
Reese operates Maplecrest Farm in Georgetown, Kentucky. Maplecrest is a state-of-the-art training facility dedicated to boarding, training, care, and sale of performance and sport horses. For more information on Reese and Maplecrest Farm, visit http://maplecrestfarmky.com/.
Reese depends on Neigh-Lox® Advanced to keep her horses in top shape.
"I am truly amazed how well Neigh-Lox Advanced works. I was having a lot of issues with my young horse Denali. He was girthy, very cranky to groom and work with, and I could not get his coat to improve. After one month on Neigh-Lox Advanced I could not believe the difference in his overall body condition and his attitude. I had no problems with him traveling to Florida for the first time. I was amazed! I have all of my competition horses on Neigh-Lox Advanced and I make sure to never run out!
"I really appreciate working with the staff at KPP. Their knowledge and customer service is far above any other company. I really appreciate a company who will answer all of my questions and listen to my concerns about all my horses. That is tough to find these days in the supplement industry!"
– Reese Koffler-Stanfield