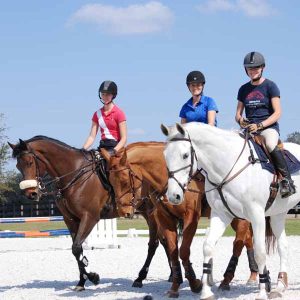 The Life of a Working Student
Hey everyone! I'm sorry my blogs seem to be few and far between. I stay pretty busy living the life of a working student for Missy Ransehousen.
To sum it up, I got up at 6 a.m. every day, fed my young horse, cleaned his stall, helped bring up, feed, and water the other 6 horses where Zeke and I were staying and then headed to Missy's at 7:30. When I got there we fed, brought some up, turned some out, and cleaned stalls. Then it's other chores that vary and change throughout each day between cleaning tack, horses, keeping stalls mucked out, riding your own horse, and maybe an extra one or two, then keeping the rest of the barn nice and tidy. This may not sound like much, but it keeps us all VERY busy. Then I'd leave at 4, help with the chores again where Zeke was, ride him and then I'm done for the day. And yes, I went to bed very early.
Now with all of that being said, I LOVE IT! I feel so lucky to be a working student for such a great trainer, and a great person. Missy is great because she's very specific on how she likes things…neat and tidy. It's helping me as a person stay more organized and on top of things. I am learning more and more on how she does the upkeep on all of her horses to keep them at peak performance and always looking great. My horses look better than they ever have, weight, coat, and fitness-wise. They also feel better than they ever have, especially Hoosier. There was a time early last year, before we knew Hoosier was sick, that I thought he was starting to feel like he had some age on him. Now that is not the case—sometimes he's even a little wild. Missy's program is very intense and hard work but at the same time preserving their bodies, legs, and feet as much as possible.
Anyway, back to being a working student. I could always go on and on about my boys. One of the best things about being a working student is the friends you make. The teamwork makes the day go by a little faster and makes it a little more fun. Don't get me wrong, there are some days that are a little rougher than others but for the most part we make the best of every day.
David was the one who usually kept us entertained by dancing in the aisle ways, his witty comments, seeing how high he can jump (which isn't as high as he thinks), and his relaxed attitude about everything. Becca was the sweet one. She would get things done and you never heard a complaint out of her. There were some days I would be so busy doing other things that she would even have Hoosier tacked up for my lesson so I'd be on time. Now that being said, she was the only criminal in the group that had an encounter with the Ocala police. Apparently Ocala policewomen don't like pretty girls driving big trucks! Then there's Steph, the one that kept us all organized. You needed something done you go to her and she would know how to get it done, who to contact to get it done, and the best way to get it done. Also, her most important job was making up the grain every day, a job none of us wanted, so thanks to her we hardly EVER had to do it.
So this was just a little snapshot of my winter and what we do in Missy's barn. I'm not sure how the other students would describe me. The girl who needs training on how to get the wheelbarrow into the dumpster, maybe?
Until next time, safe rides!
Megan