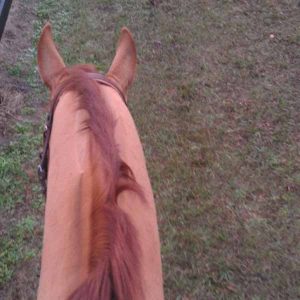 Greetings from Sunny Florida
Hey everyone! I hope you all are doing well and staying warm! I say this from sunny Florida, where even though it was 32 degrees this morning it should warm up to 70, so I can't complain too much. I'm not really sure where to start this blog because I have had so much happen in the past few weeks and have had a blast every second of it.
The trailer ride down went smoothly but it was a LONG haul. Poor baby Zeke was over it by the time we made it to the Tennessee border. I guess he has a lot to learn. The farm Hoosier is on with Missy is beautiful, and has plenty of nice grassy pasture space. The best part is, it backs up to the O'Connors so we get to use their wonderful facilities every day. The footing we do our gallops on is amazing; you can't even hear the horse's feet hit the ground.
As far as my lessons are going, Missy is definitely getting both of our butts in shape. She has a plan for us every day and mixes it up every day. For example, we will do dressage one day, 30-minute trot sets the next, jump the next, dressage again the next, gallops the next, and flat or jump again the 6th day. I love this because you always have a plan and the horses aren't getting sore from doing the same thing every day, not to mention Hoosier has gotten fit really fast.
In dressage, Missy really has me working on sitting up taller so I can use my seat and legs more effectively to make Hoosier more up. To do this we do a lot of shoulder ins, haunches ins, and leg yields to get his hind-end engaged and listening off my leg. We are still working on him collecting his canter, being more up and keeping his jump all at the same time. The best way I understand to be able to do this is by making his strides smaller but at the same time a little more forward.
In jumping it's basically the same thing we have been working on. She wants the up canter slower but with more jump so he will spring off the ground and use his muscles more instead of pounding on his joints so much. This is making him jump much straighter and not wanting to do his twisting thing. As for me I have got to sit up straighter to the fences, especially at the base, so I can be more help to him with my leg. Missy told me the other day, "Don't pray your way up to the fence, but ride to the fence." I figure it can't hurt to do both sometimes! Both disciplines are getting better but we both have a lot of work ahead of us.
I had my first show this past weekend and I couldn't be more pleased with how it went. We got a 30 in dressage, which I'll take any day of the week, but she still nailed us on our canter being a bit lazy. Our stadium was great! I rode the first half really well but got a little too excited at the end and pulled the last rail on the last fence because I got him too strung out, but other than that he was jumping great and had a powerful canter that wasn't fast.
Then there was cross-country. Well, what I think we all need to know here is that Hoosier is feeling MUCH better now that he is not sick. He was the strongest I have ever felt him on cross-country, and not necessarily in the best way. We had a little time because he was fighting me in front of the gallop fences. So we lost time over our discussions but as far the combinations go, he was perfect! So we may try some different bits on him before our show next weekend to see if we can make our discussions before the fences a little shorter.
Zeke is doing great! He has gotten Missy's approval, but she says we need to channel his energy and talent in positive ways. I'm getting him to as many different places as possible and Missy has been helping me with him once a week. I love how willing he has been and he's trying so hard. I'm not sure when I'll show him next but he's more just down here for experience and training. That is, what will benefit him most.
I hope you all back home are getting some rides in between the nasty weather, or at least being able to play with your horses some. Next time I will tell you about the life of a working student. It's very entertaining. I love it and wouldn't change what I'm doing for anything. I am very blessed.
Until next time, safe rides!
Megan