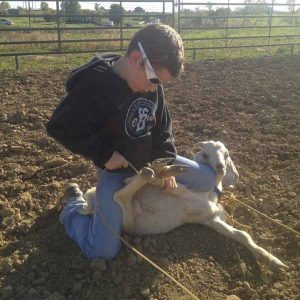 Winter Update
This winter Yogi has spent the wet days covered in mud. He wears a turnout blanket that is muddy, just like his mane, tail and legs. He loves to roll outside. And chase our other horses around the paddock or pasture. Yogi thinks he is the boss.
I have been practicing roping on the calf and steer head dummies, mostly on the calf. Speaking of calf dummy, for Christmas my Grandma got me a big plastic calf size dummy called "Charlie the Smart Dummy". My dad has been helping me practice roping a calf-sled and a Hot Heels too. Someone pulls the calf-sled with a horse or ATV or 4 wheeler while I follow it on Yogi. The Hot Heels is pulled with a 4 wheeler and I have practiced roping the head and the heels off Yogi, but mostly the head. I probably catch the calf dummy the most.
Sunday I went with my mom and dad to Hodge Arena to ride, because it is cold out and they have an indoor arena! My mom and dad took their horses too. I practiced with my friends Josh, Tyler & Addey who also junior rodeo. We are getting ready to go to a youth rodeo in Lancaster, OH this weekend, if it doesn't get cancelled because of snow. We really needed the practice time because of the weather we haven't gotten to practice as much as usual. I started feeling bad and a little tired while we were there. On Monday I went to the doctor and found out I have the flu, even though I had a flu shot! Luckily I didn't have to get another shot!
I've been to 2 rodeos in OH this season, but this weekend will be the first one that my KY friends will be at with me, I'm pretty excited! That means I'm gonna have more competition! I hope it doesn't get cancelled because of the weather, I wouldn't be a big fan of that. Last time in OH I competed in 11 events. I was in the 7-9 year old division and also the 10-12 year old division in some of them because they allow you to bump up an age division if you want. My mom wrote down my placings from the last rodeo:
Dummy Roping – 1st
Goat Tail Untie – 5th
Goat Tying – none
10-12 Adv. Dummy Roping – 5th
10-12 Adv. Dummy Rope & Tie – 4th
Drag Dummy Breakaway – 1st
10-12 Drag Dummy Breakaway – 2nd
10-12 Drag Dummy Heading – 5th
Barrels – 3rd
Poles – 2nd
Down & Back – 4th
Oh yeah, I almost forgot. Speaking of Christmas, I got a fainting goat! He still doesn't have a name yet, but I'm open for suggestions.
Caden & Yogi
Want to help Caden out?  Leave your name suggestions in the comment section of this post and we'll let you know next time if his new goat has a name yet.